Neapel
Södra Värtan, traditionally a part of Stockholm's industrial port, is being developed into a new mixed urban environment with a variety of activities and housing tenures. A district that will include both new and old buildings of differing character and scale. The neighbourhood is located within Norra Djurgårdsstaden, Stockholm's main environmental initiative, focusing on sustainability and quality of life.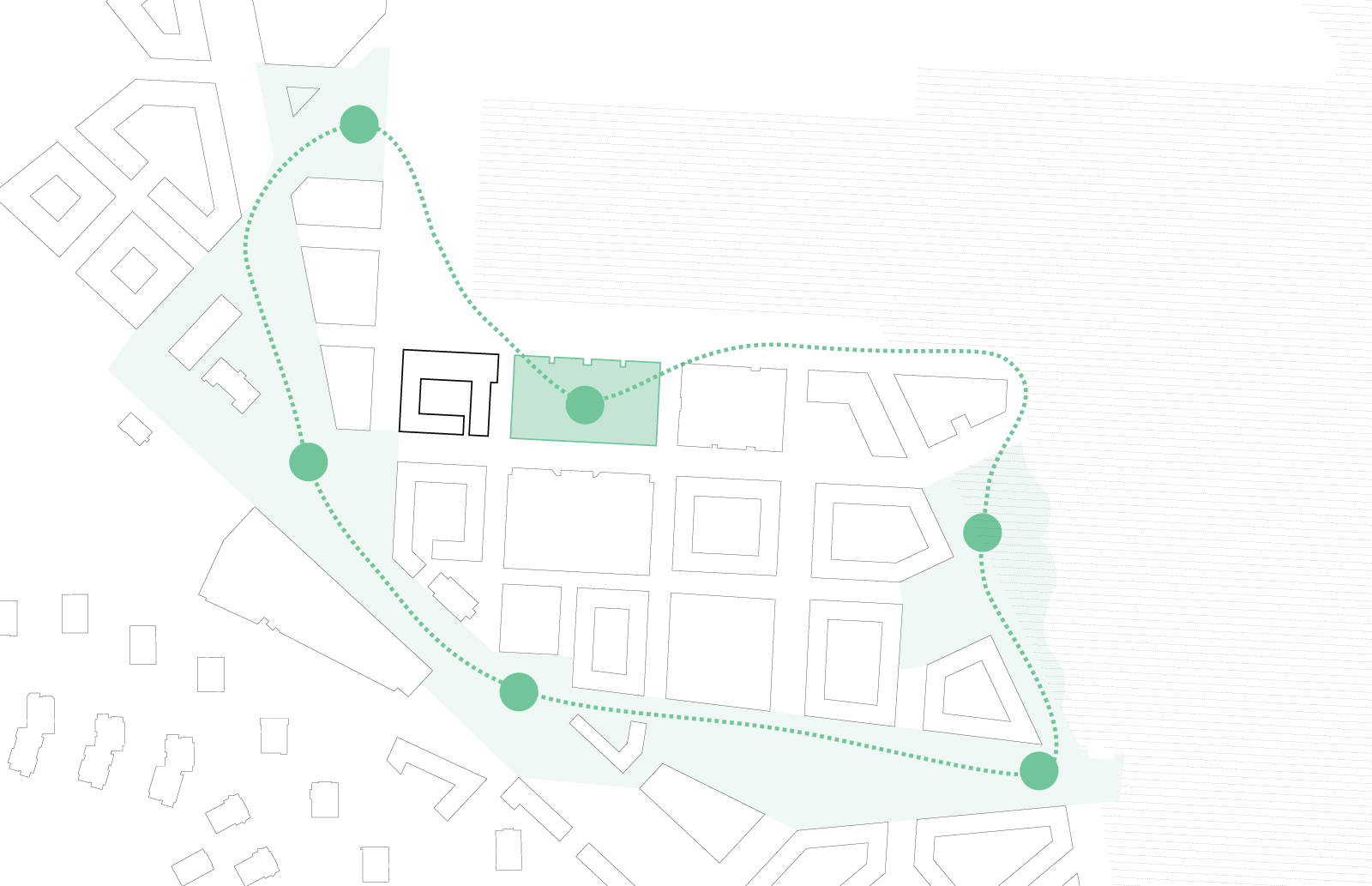 Antiquarian approach
The neighbourhood of Neapel has a long history and was initially a place for trade and commerce with warehouses and wooden sheds with alleys to the water. Current buildings are a result of the east-bound cruise traffic, with clear references to the postmodern structuralism and geometric plans of the 80´s. Our point of departure is unifying these historical stories to generate strategies for a development which meets the expectations of what a city block should include today; an inviting, vivid context with meeting places, recreation and micro climates with integrated ecosystem services and unexpected qualities.
Urban addition
Towards the harbour basin, new floors of offices are added to the block, based on the cubic idiom of the existing building, including open workplaces with shared functions and lobby in the entrance hall. The existing buildings facing Hangö road are replaced by housing units with facilities on the ground floor. The larger scale towards the water is transformed in the gables capturing the street character of a more informal urban space on a human scale.
Square Courtyard
The courtyard is designed as a shared space – both for residents, tenants and for the public. Space for playing, meeting, spontaneous activities, outdoor cafés etc are on a flexible area with a beautiful connecting paved surface. Tactile elements, water and a warden tree are signum for the square. Porticoes and transparency articulate the connection to the surroundings.
Local park on the roof
The courtyard of Neapel is supplemented by the roof's tiered park where common and private spaces are connected by public paths. The roof comprises urban farming, terraces, conference- and meeting places as well as space for recreation and street sports.
The courtyard becomes a shared local square, the stepping rooftop activity park offers a public path where private and common areas are interconnected.