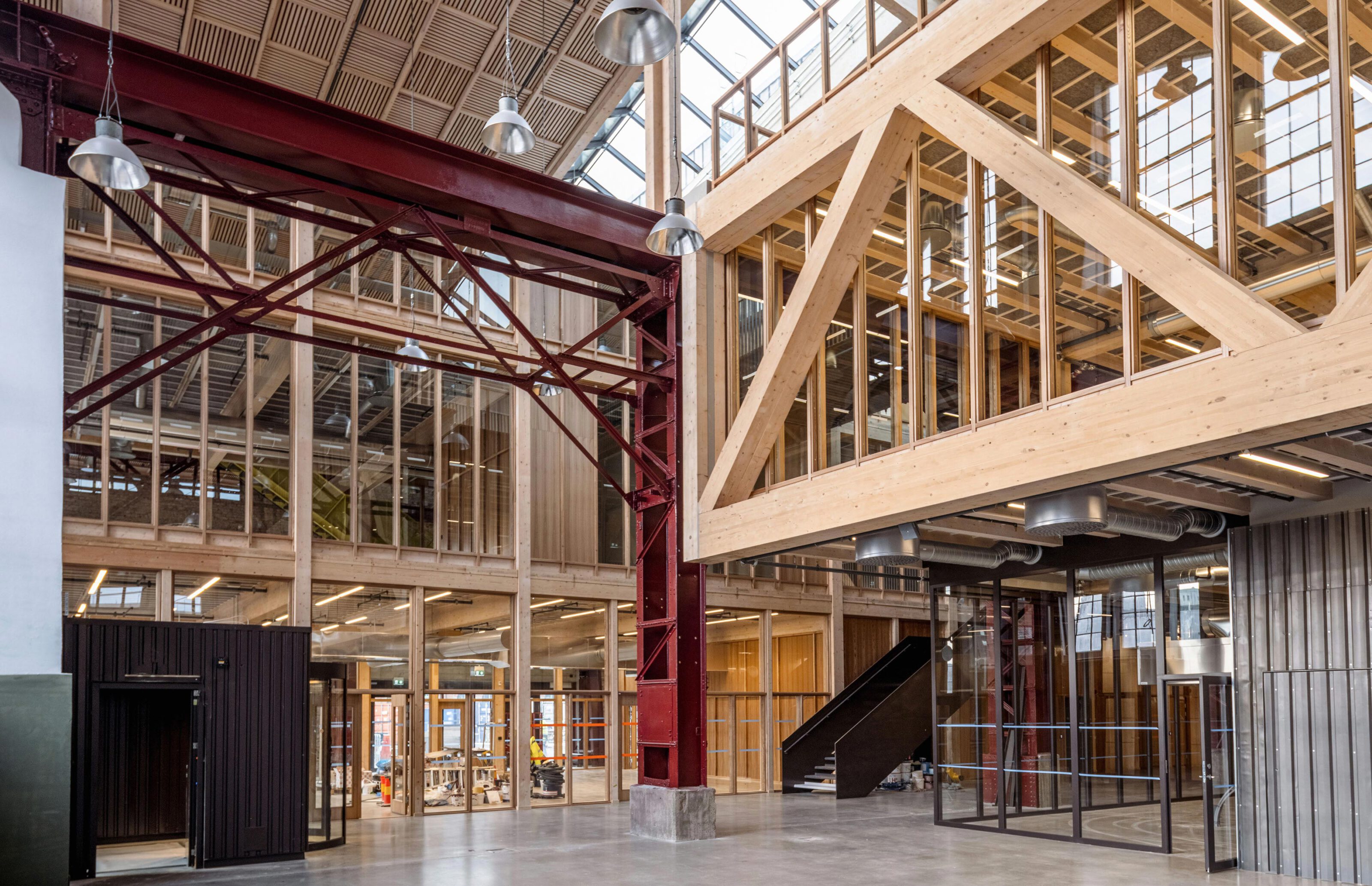 Gjuteriet
The transformation of Gjuteriet in Malmö, designed by Kjellander Sjöberg for Varvsstaden, has been completed. Focused on the intensive re-use of repurposed materials, the project demonstrates how existing buildings can be reimagined based on circular principles. Formerly a ruin, the distinctive building has been given a vibrant new life as an active and social new urban place telling a multifaceted story about the port's rich maritime heritage.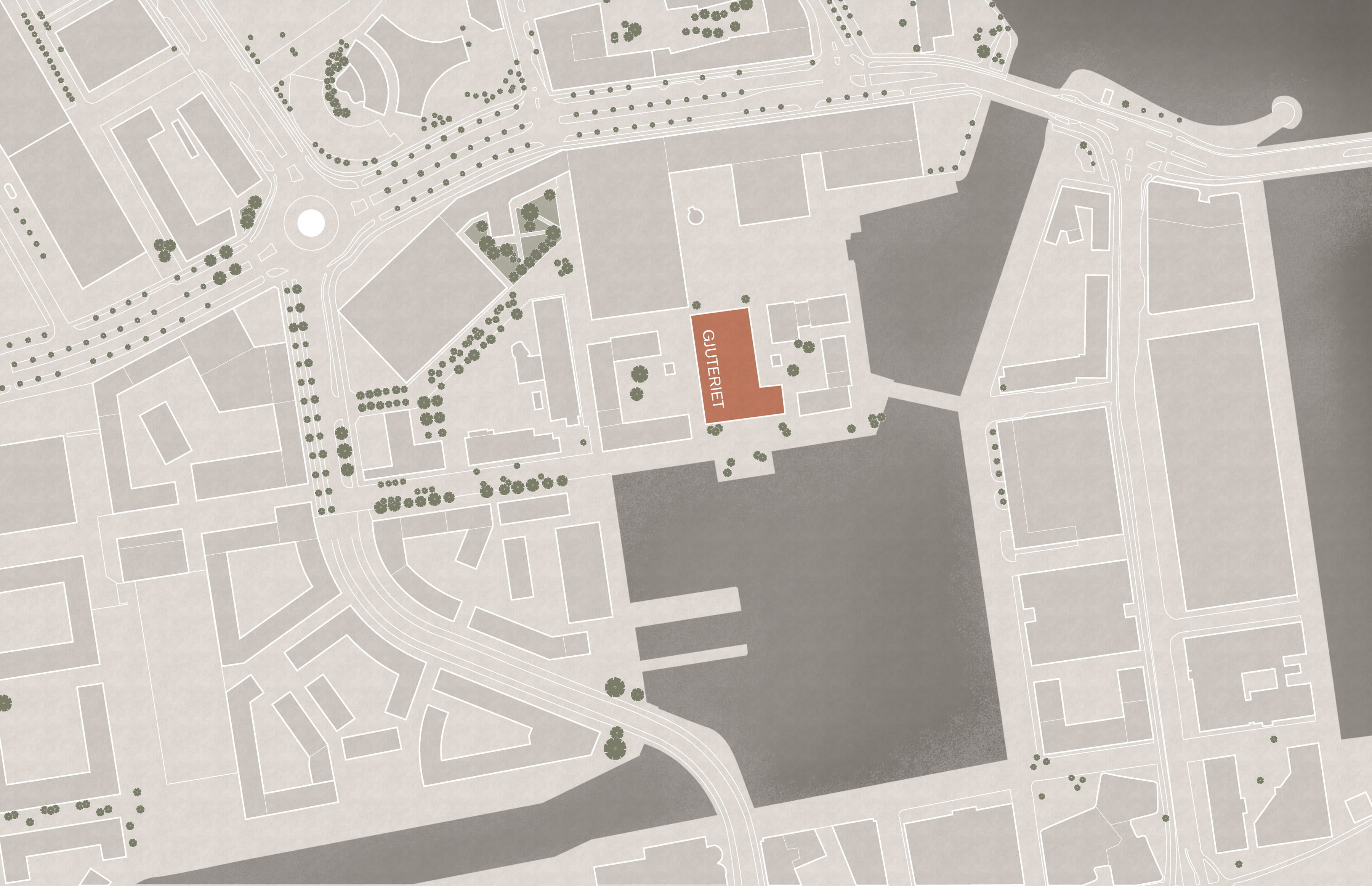 Part of a new sustainable and circular neighbourhood
Varvsstaden is a major regeneration project in Malmö transforming the old shipyards into a sustainable new district. The historic Gjuteriet foundry building is a key landmark in the area representing Malmö's emergence as an industrial city. The project is both about the reinvention of the building itself and the wider positive change it brings to the emerging regeneration of Kockum's formerly industrial areas into a vibrant new mixed urban district. Central to the refurbishment was circular approach, reuse of materials and renewable resources. All additions to the existing steel frame are in glulam timber and CLT whilst bricks, sheet metal, corrugated panels and stairs have been sourced from Varvstaden's Material Library where previously demolished building elements from the old shipyards had been collected, cataloged and prepared for reuse.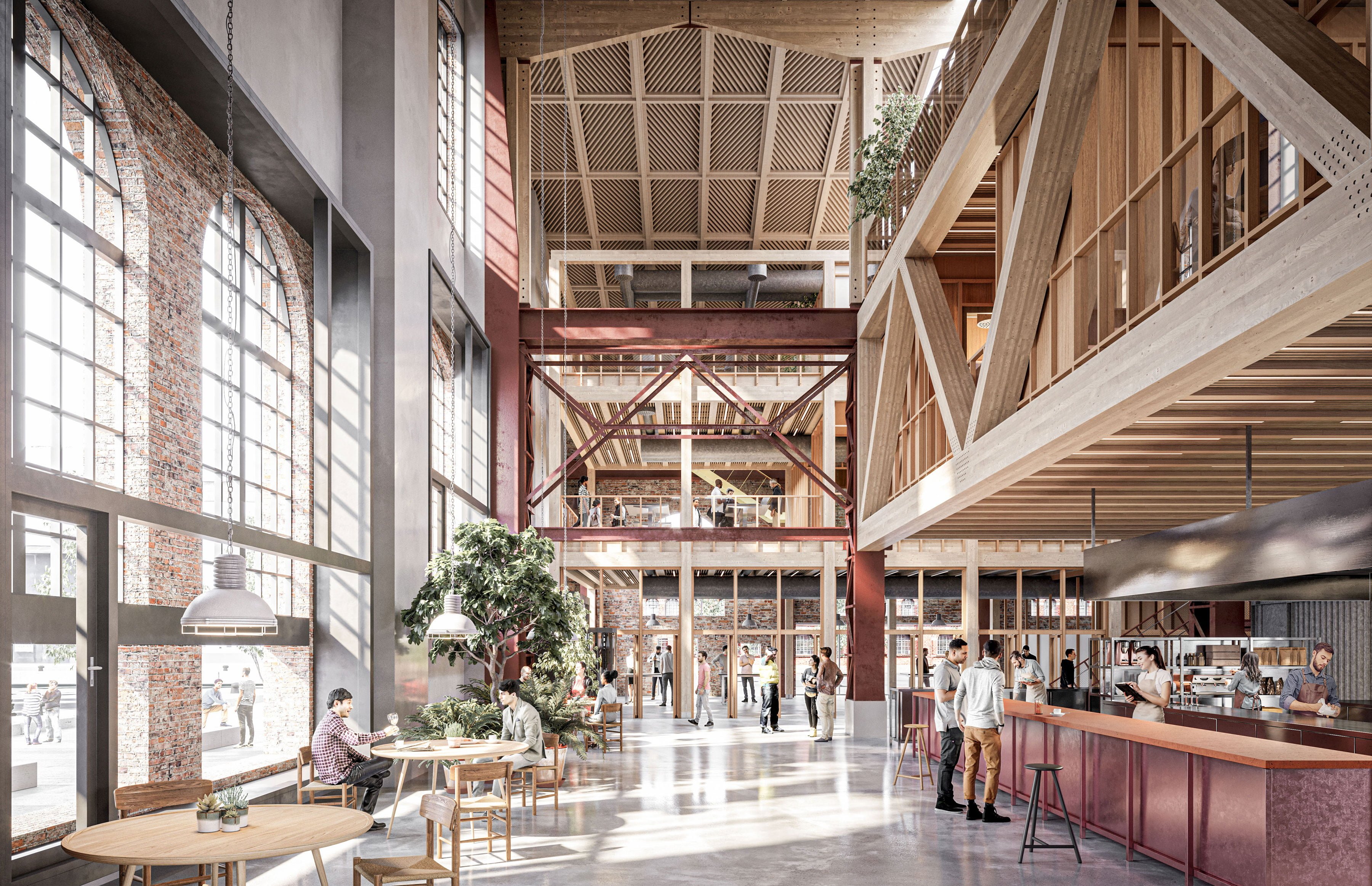 Open social meeting place
Gjuteriet becomes an innovative and open new meeting place, a vibrant creative node in the city, and a new inspiring and experiential company headquarters for Oatly. The ground floor is designed for a diverse content. Besides the entrance foyer and a restaurant for Oatly, it provides generous spaces suitable for public use such as a café and an exhibition space. Kjellander Sjöberg have developed a program with maximum social, local and environmental benefits which bring to life an active new public realm along the adjacent quay, dry dock and inner basin. This new focal point in Malmö will kick start the regeneration of the Varvsstaden district which is fast evolving into an exciting new mixed-use neighbourhood with homes, workplaces and a new fine arts campus, connected to the city centre by new bridges, transport connections and a reinvigorated public realm.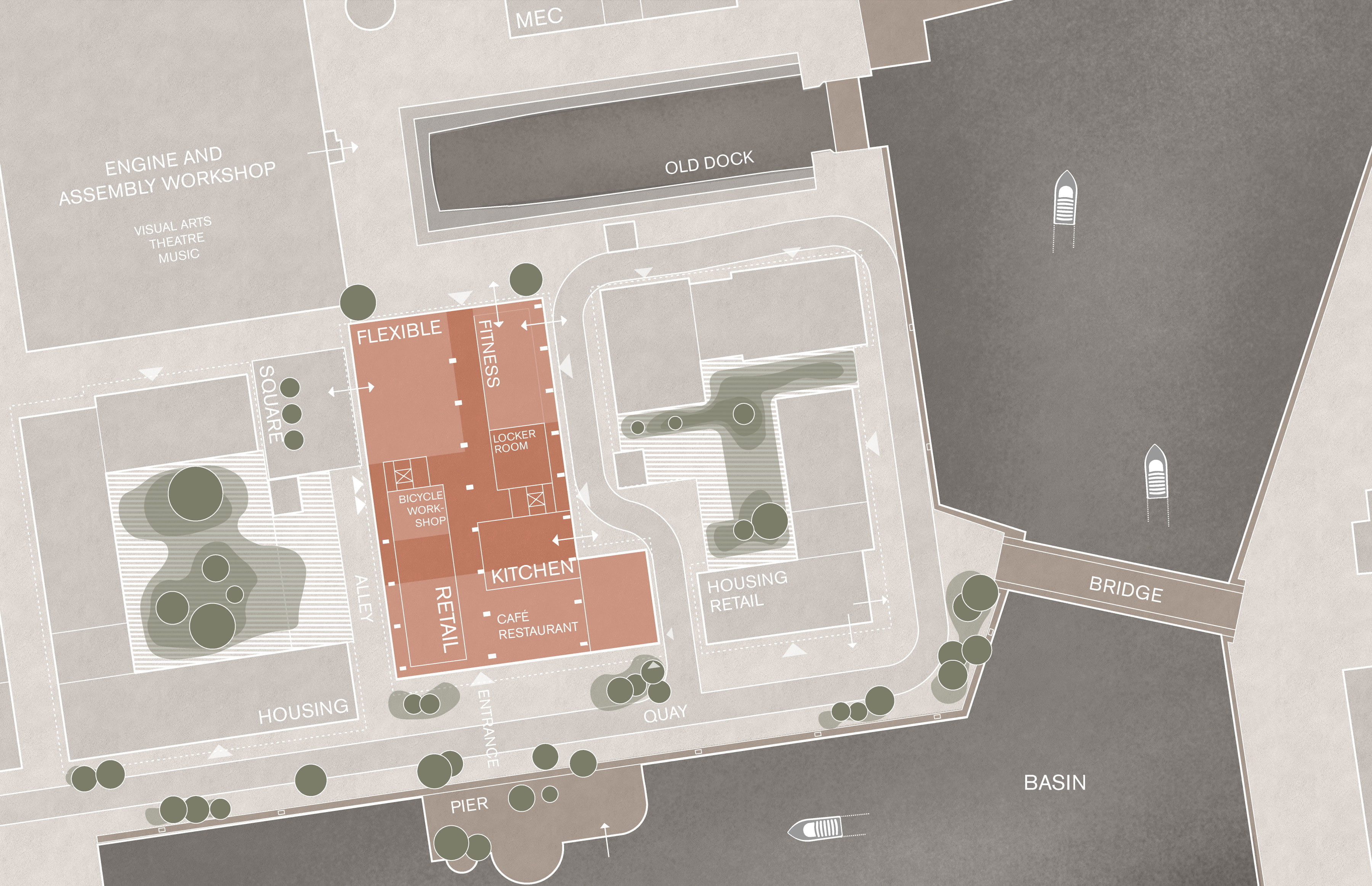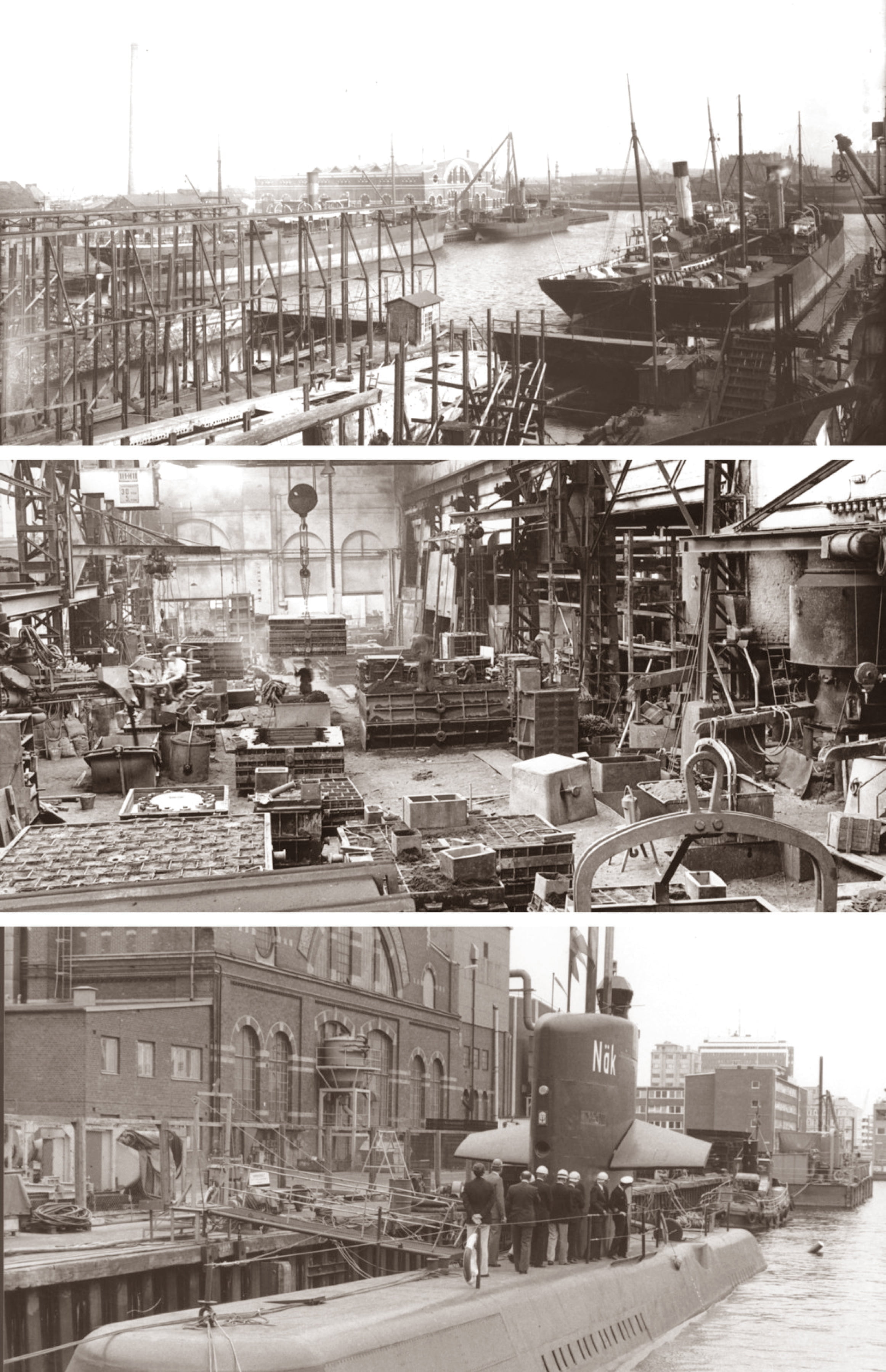 A versatile and flexible building, adapting to changing needs
Gjuteriet is a visible, prominent building in Malmö, a historic player in the shipbuilding industry and a key part of the City's identity. Originally built in 1910 as a foundry producing metal castings for ship and bridge building components, it has been adapted to serve changing needs over the years. Newer extensions added to the north, west and east had been subsequently demolished each leaving their particular imprints on the existing facades.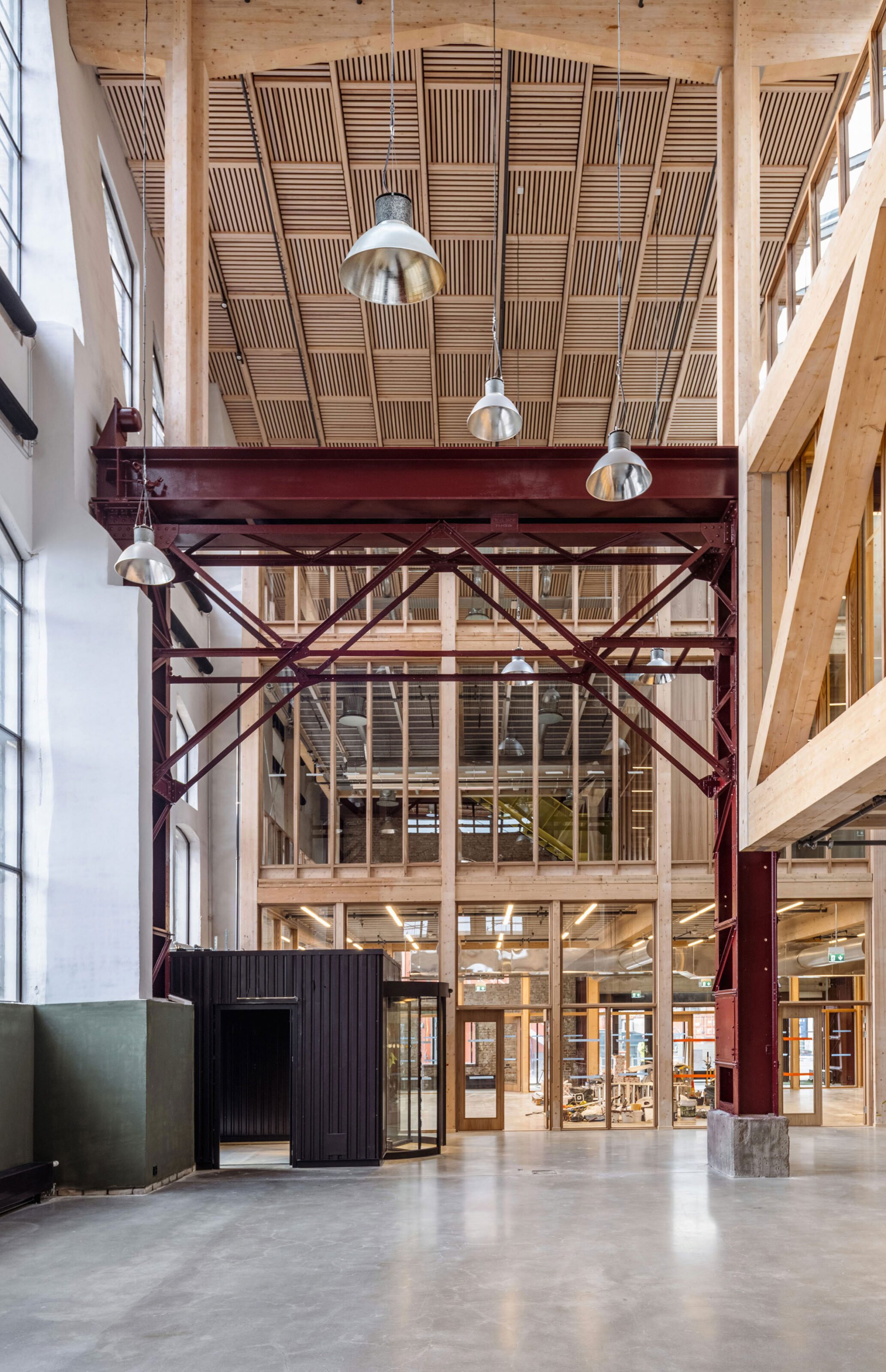 Transformation and refurbishment of industrial heritage
The building was found in a severely dilapidated state, with a collapsed roof that left the ruin exposed to the elements. The east and west facades were fragile and heavily fragmented. Starting with what was already there, the imposing steel structure, the brick walls, the frail and broken patchwork of elements, the approach was to preserve as much as possible, to leave and reveal traces and memories which told the story of the building.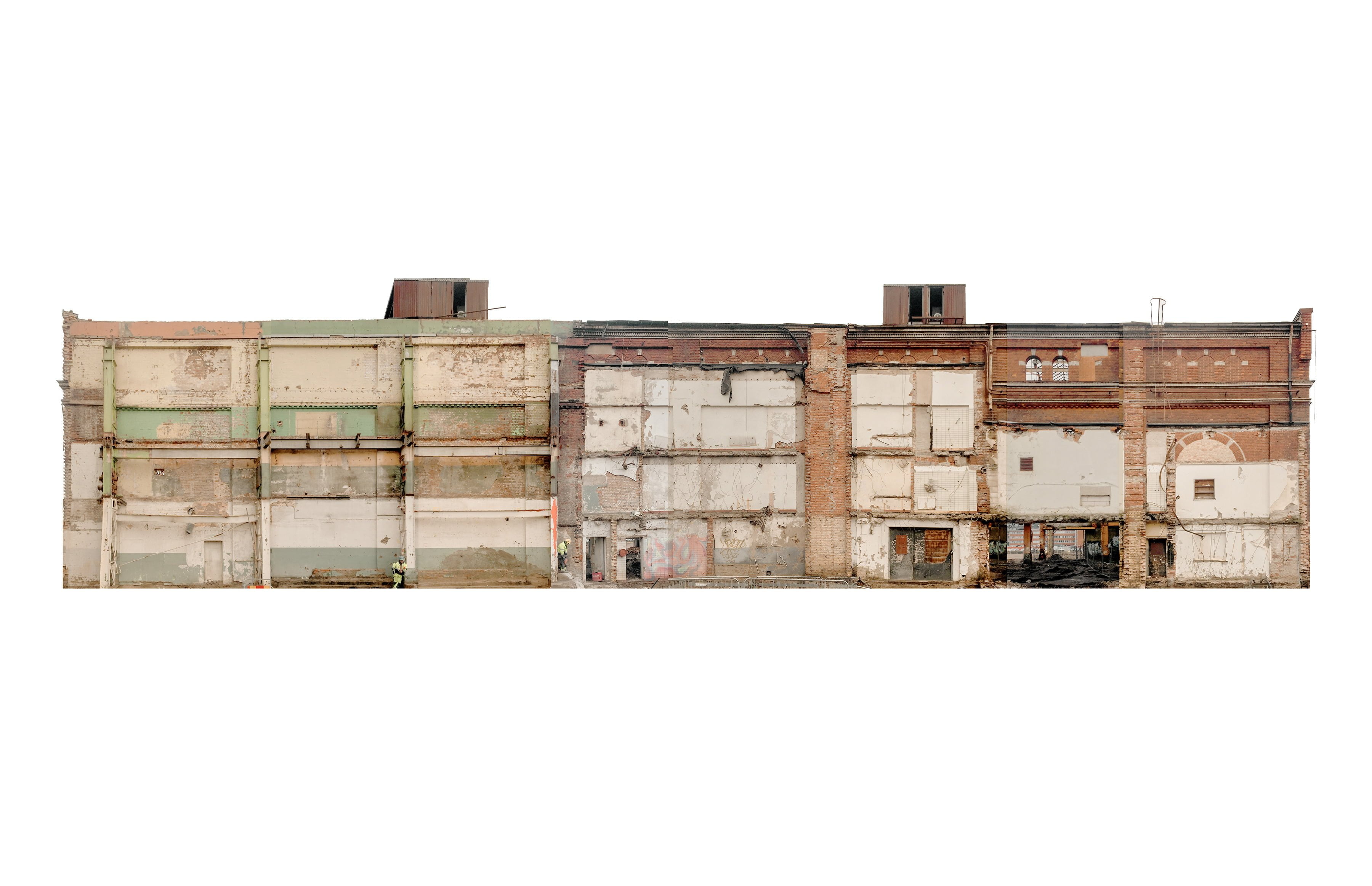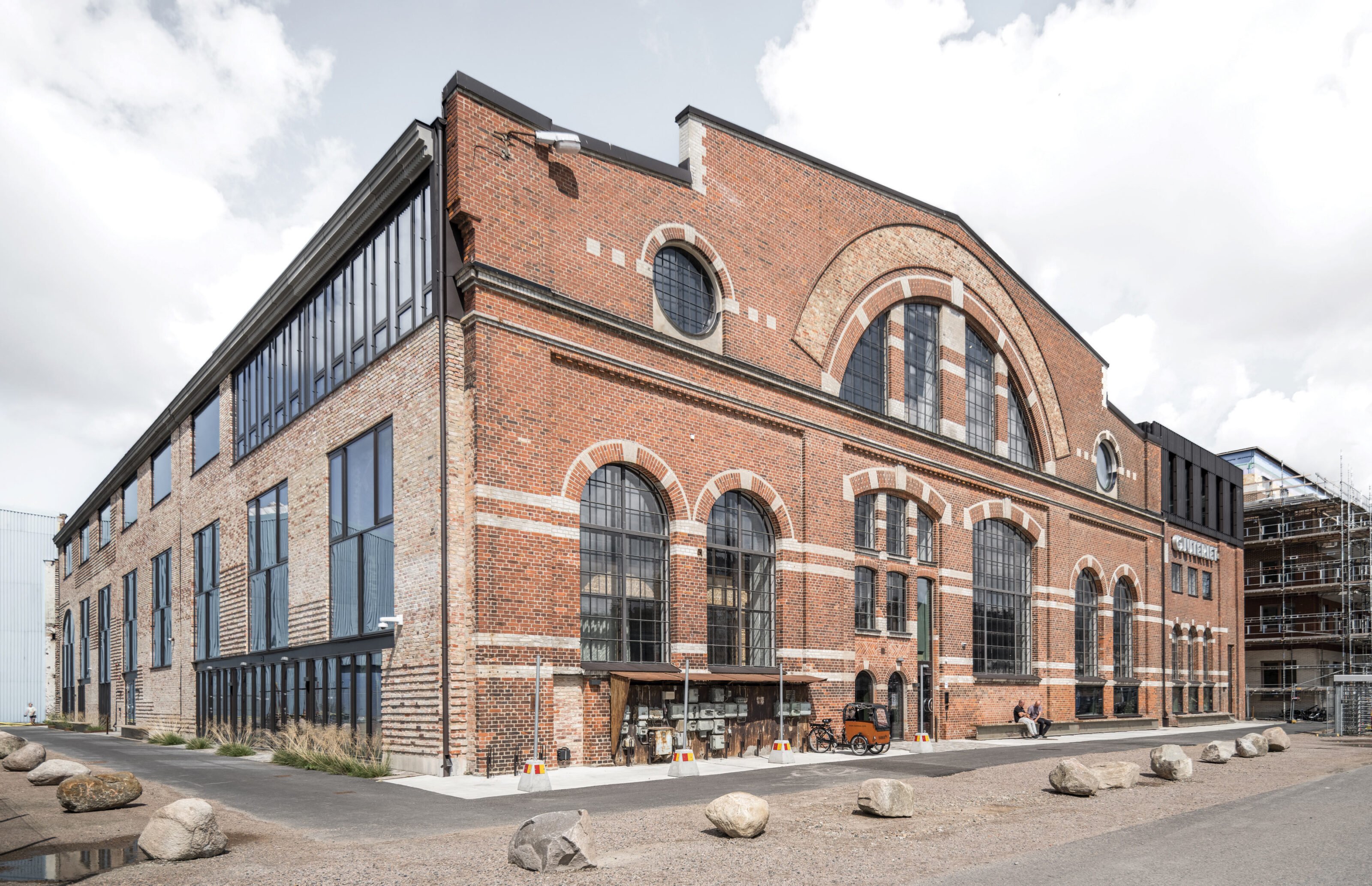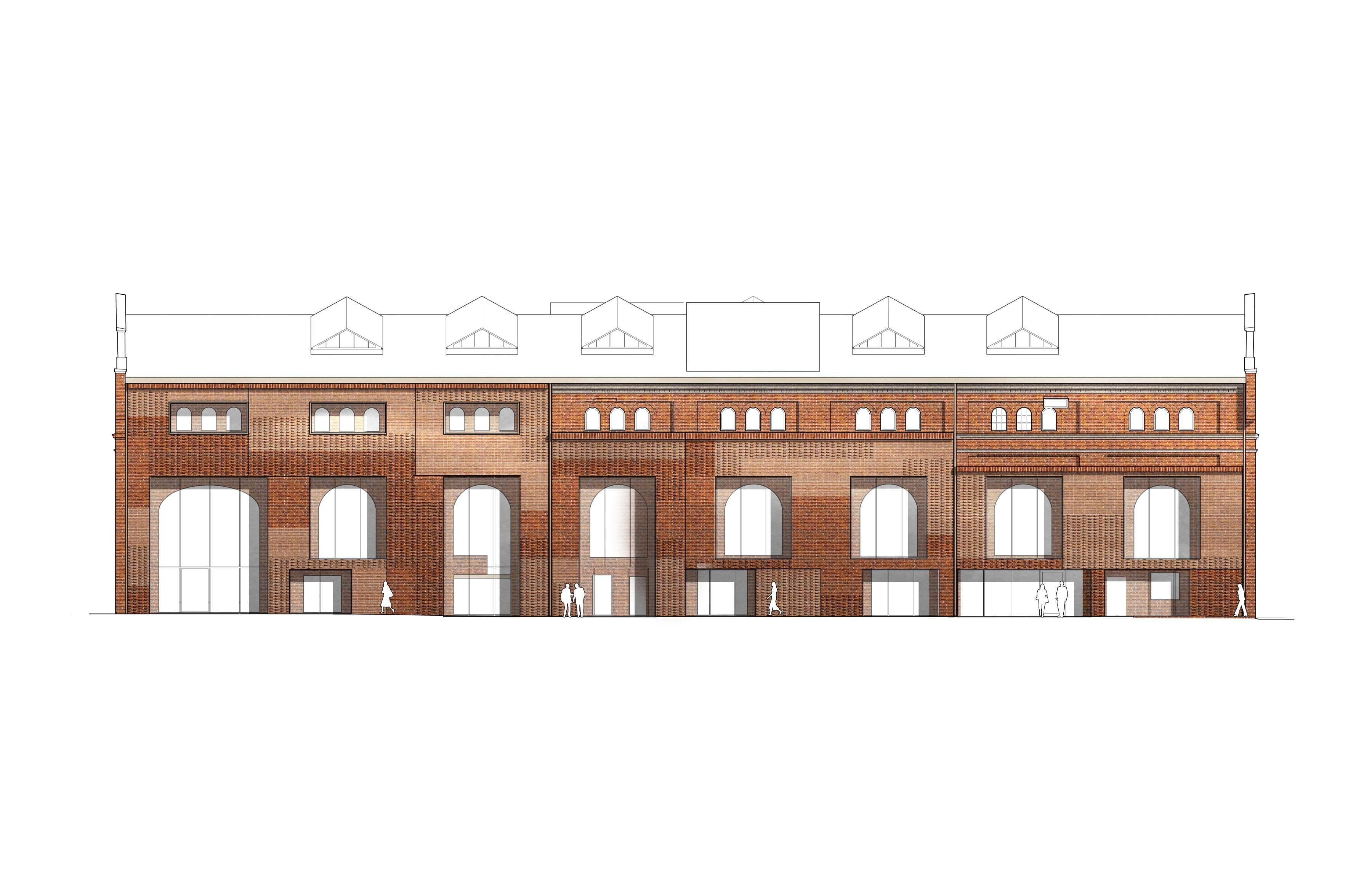 West façade patchwork quilt
The two characteristic basilica gables were renovated and insulated on the inside. Formerly an internal wall, the west façade was a fragmented collage of historic additions, demolitions and re-formed openings. By retaining these historical traces the building's accumulated stories and narratives were preserved to capture its unique essence and sense of place. The original west wall is lined with insulation on the outside and protected by a new external leaf of recycled bricks. Original doors and windows which have been sealed over the years have been re-opened, deliberately oversized apertures in the external brickwork leaf reveal the historical references of the inner leaf as part of a richly layered façade composition.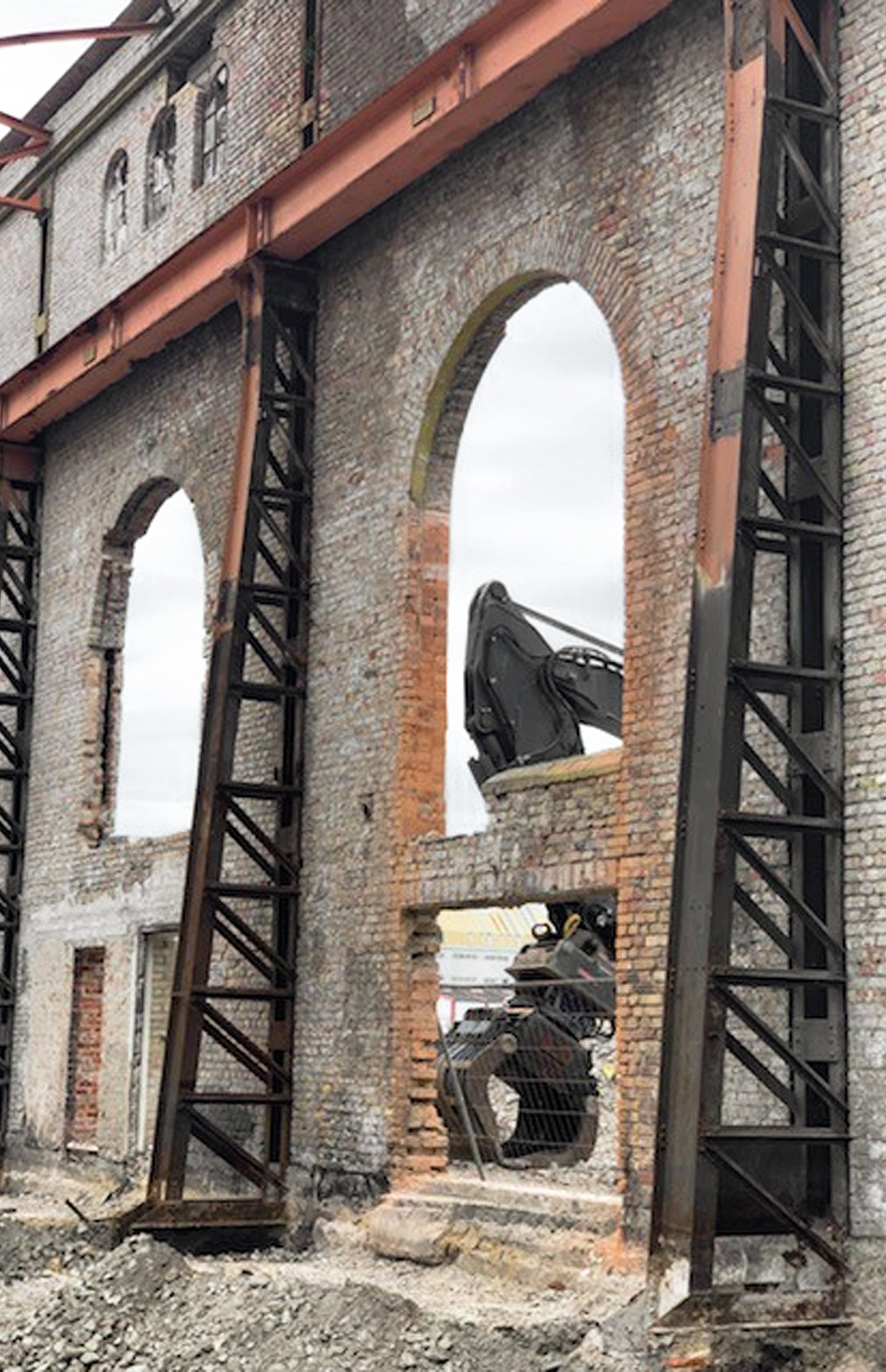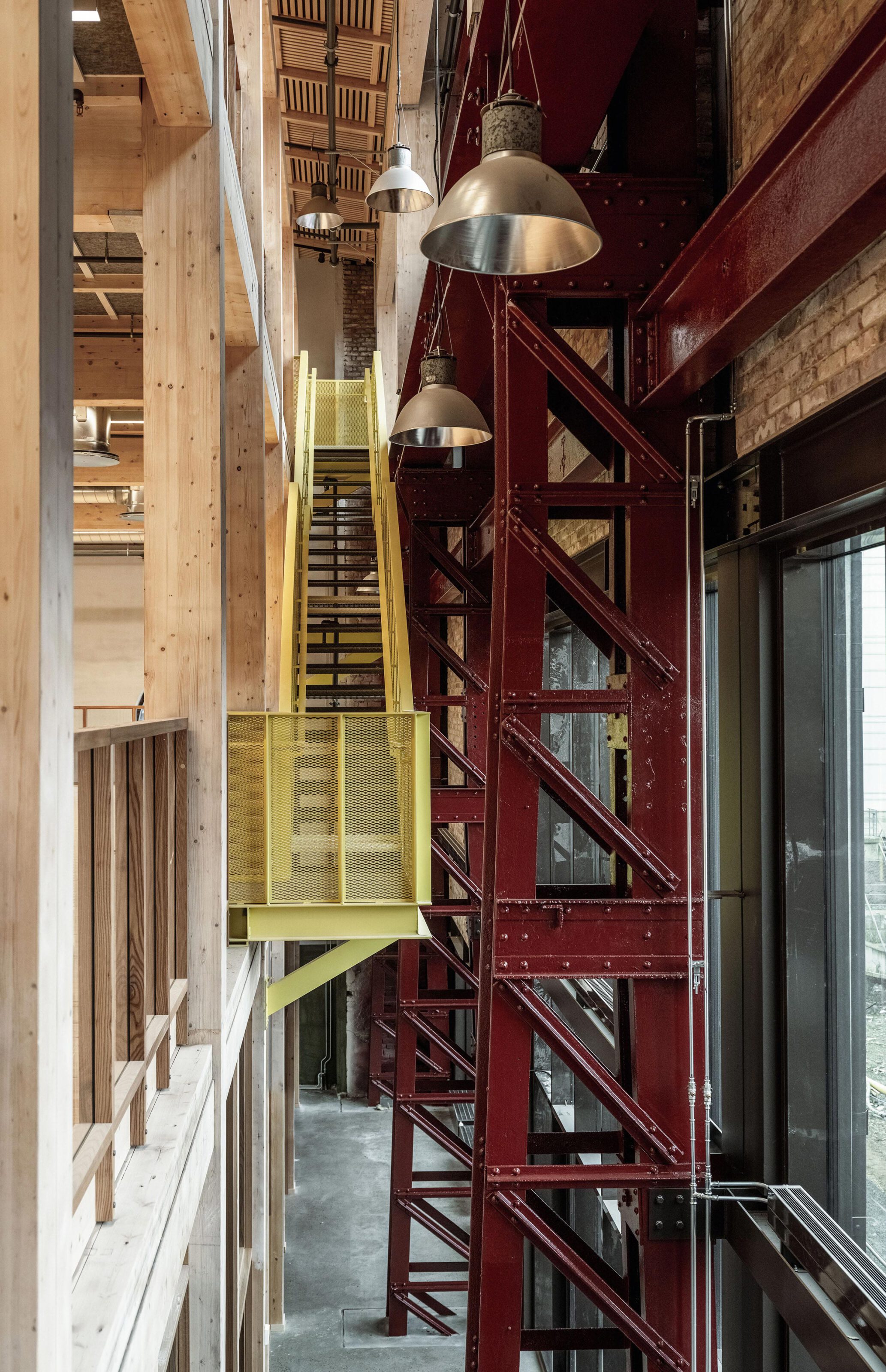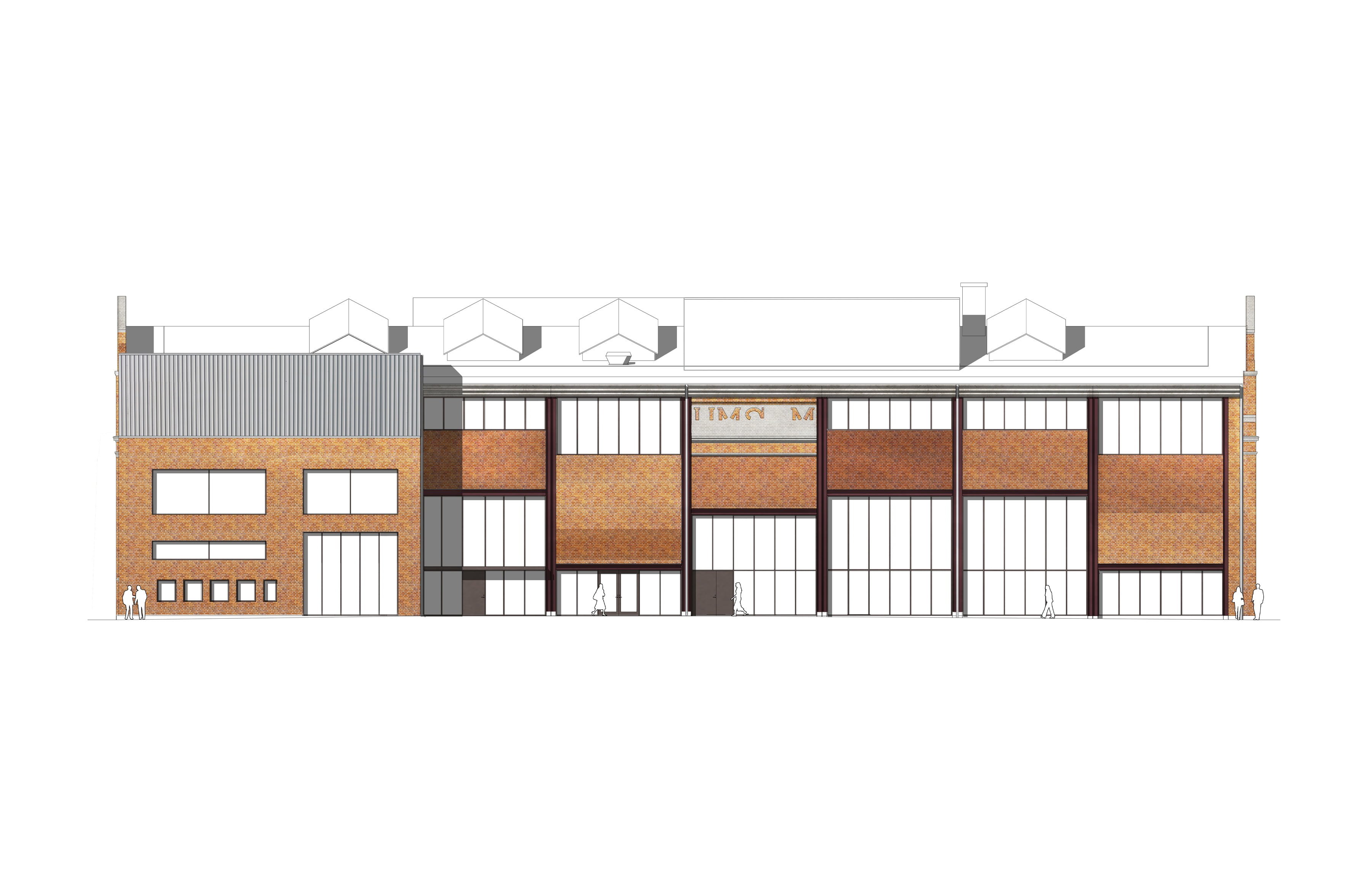 East façade suspended brick screens
The original east façade was largely torn away with a large vertical opening where there was once an adjoining part of the building. A few brick remains and a fragment of the original signage hanging from the steel frame survived. These were taken down and renovated before being reassembled with additional recycled bricks to rebuild the external wall. Thermal insulation was applied to the inside concealed by a new layer of exposed brickwork as the internal finish. The original external expression of the façade with its characteristic large openings is preserved, with sections of new curtain wall glazing and brick spandrel panels aligned to the main loadbearing structure.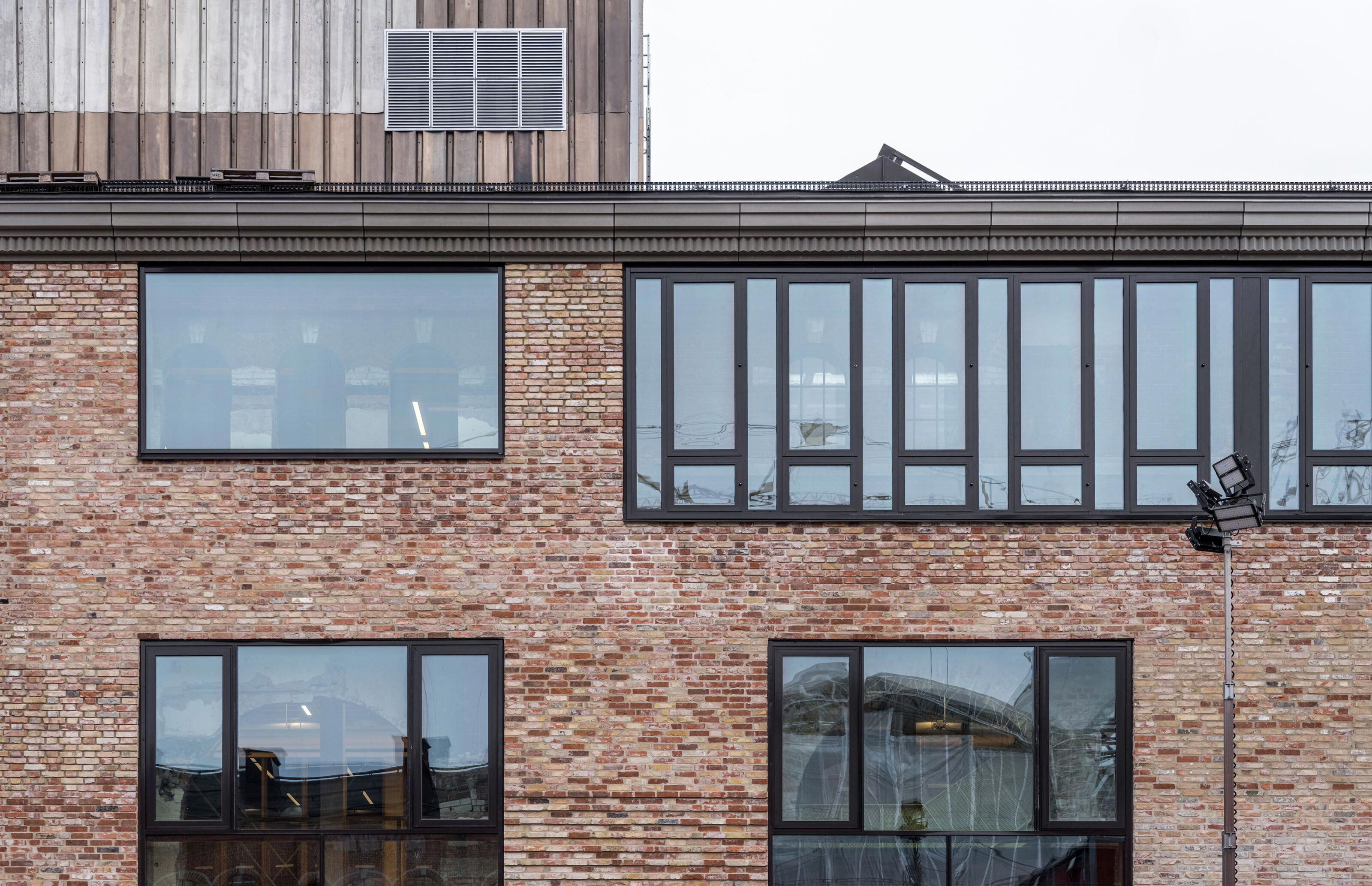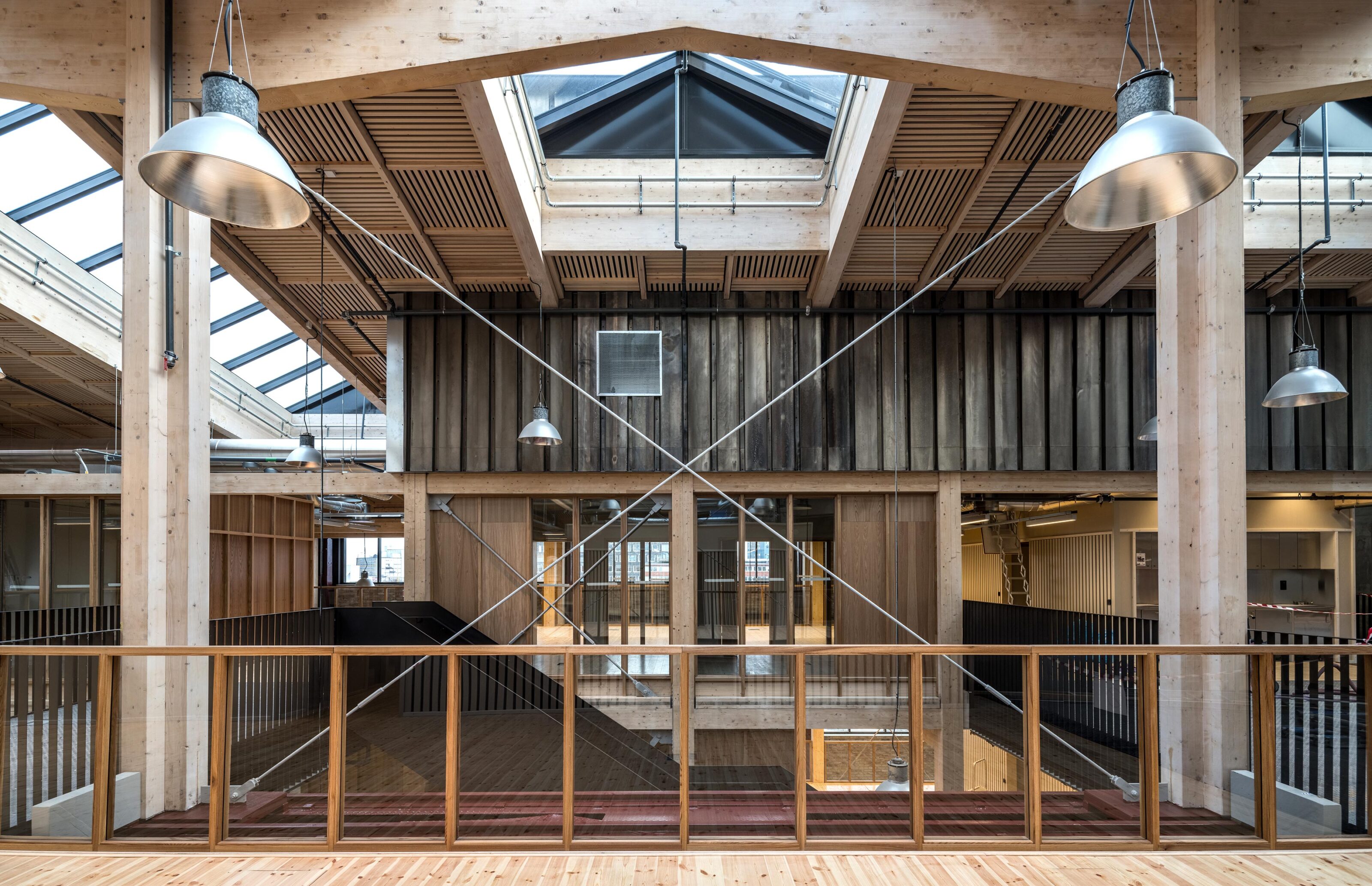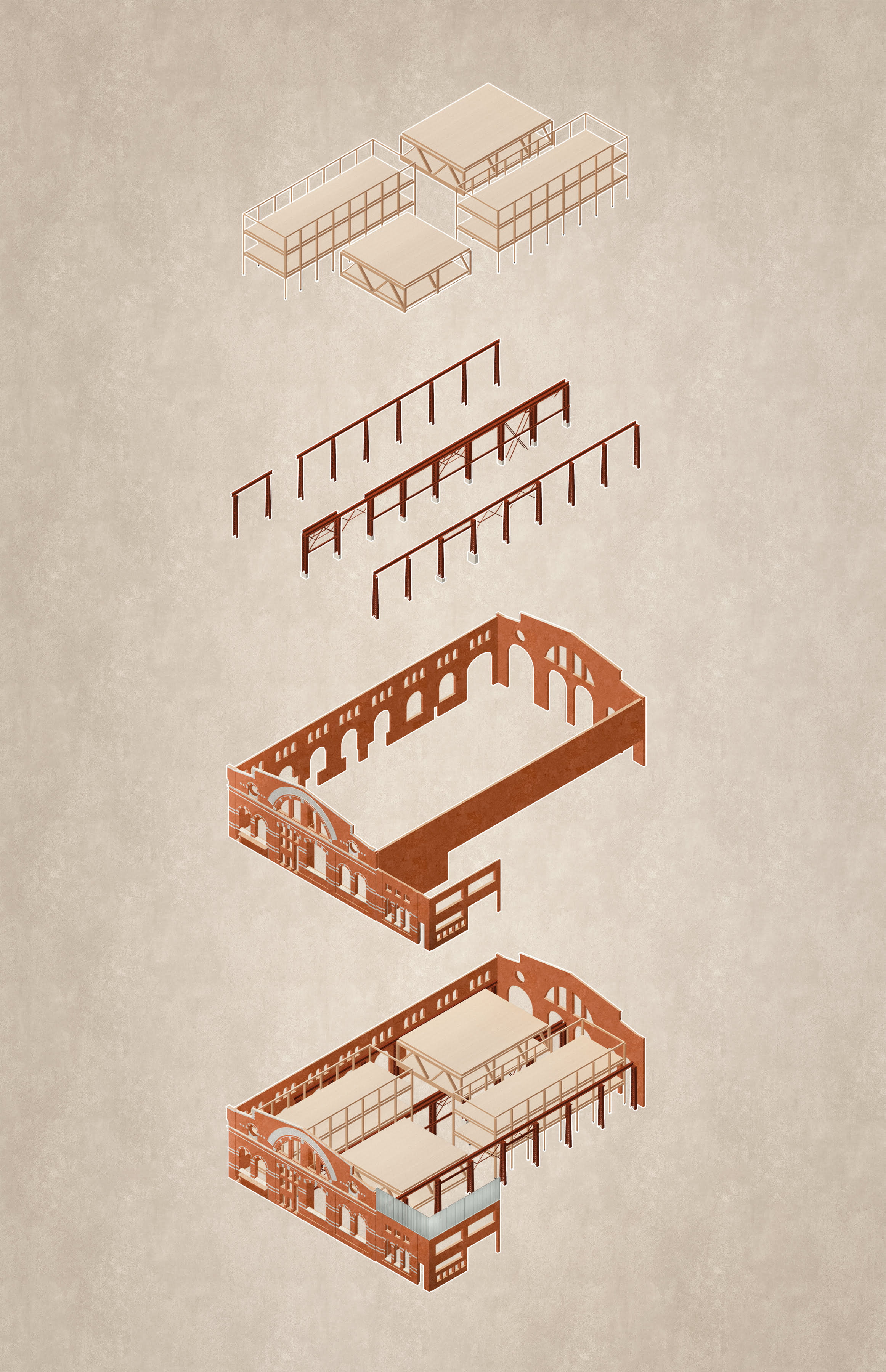 Spatial significance and rational structure
The large industrial hall with an existing steel frame and traverse was once alive with busy ship component building activity. Today, the impressive volume is filled anew with new rooms that encourage creative use, social interaction and collaboration. The new design introduces spaces and floors to create unexpected visual connections and a dynamic spatial sequence in three dimensions while preserving the experience of the large industrial space as a whole.
From industrial to human meeting place
The added timber structure, detached from the walls and suspended from the roof, keeps its distance from the existing envelope to preserve the spatial quality of the large hall. The new elements provide a rich variety of flexible spaces suitable for new programmes – creative production, meetings, social interaction, exhibitions, food and drink. Exceptional daylight through tall windows and new skylights permeates throughout the building.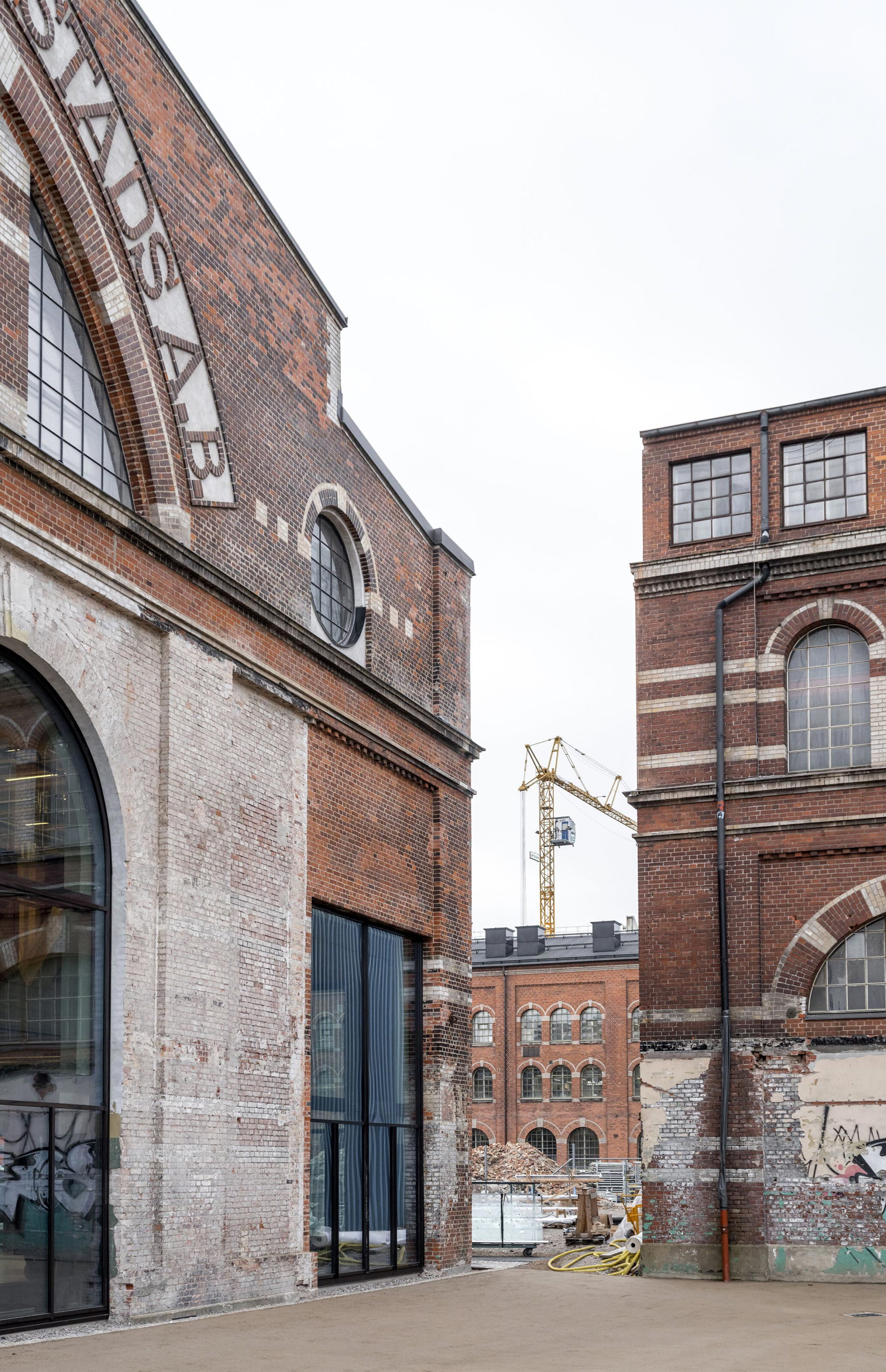 Varvsstaden's Sustainability Compass
The entire project was governed by an overarching sustainability strategy aligned with Varvsstaden's Sustainability Compass. This aims to create a healthy long-term work environment which prioritises the consideration of material resources, energy use and social benefits to create a sustainable development as possible. A key objective was the creation of an environment that promotes stimulating knowledge exchange and nurtures a community with strong connections to the wider neighbourhood and university. Low thresholds and a variety of visual and physical internal and external connections all serve to strengthen these links, as the new place becomes seamlessly part of a reinvigorated neighbourhood.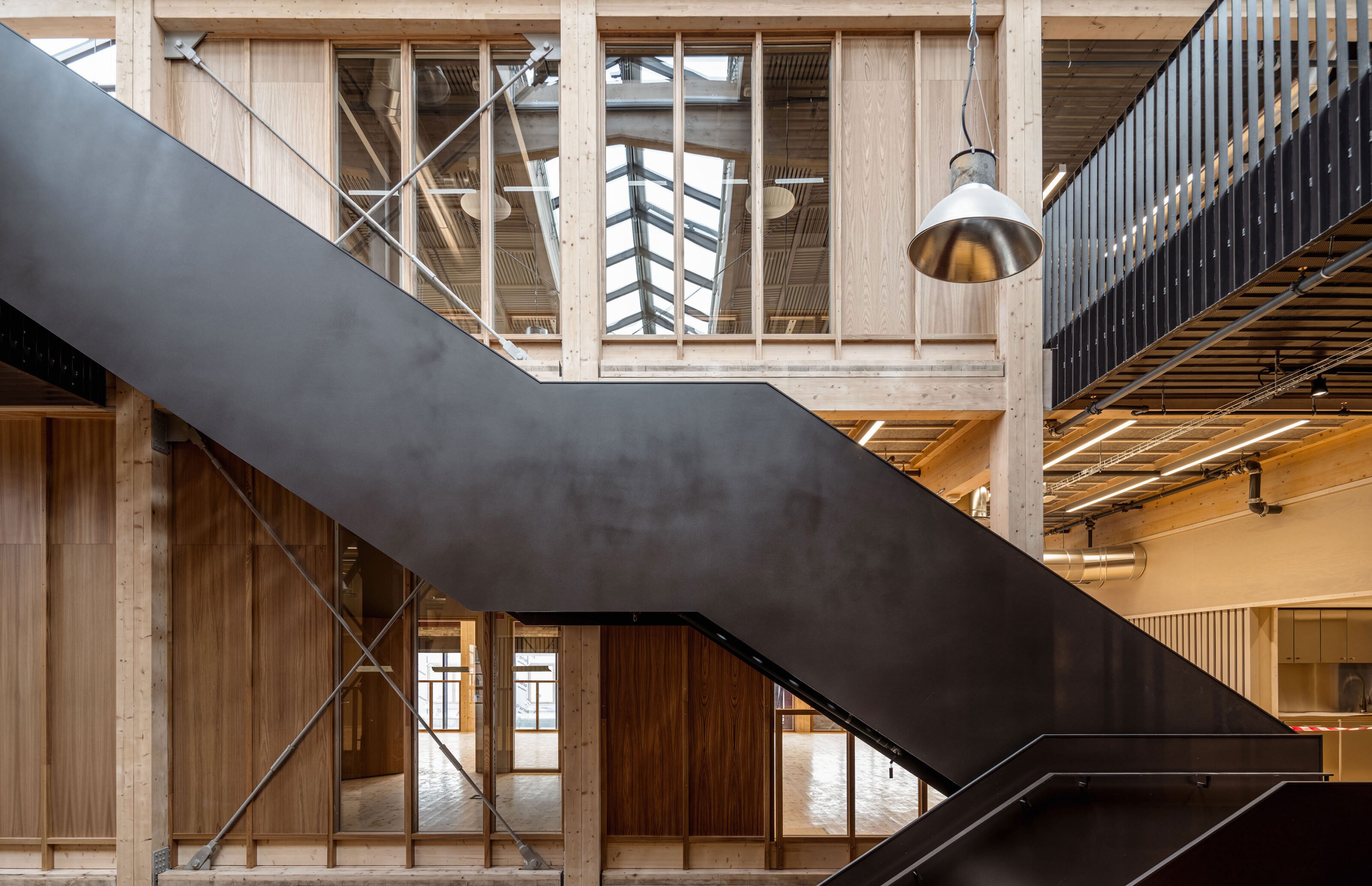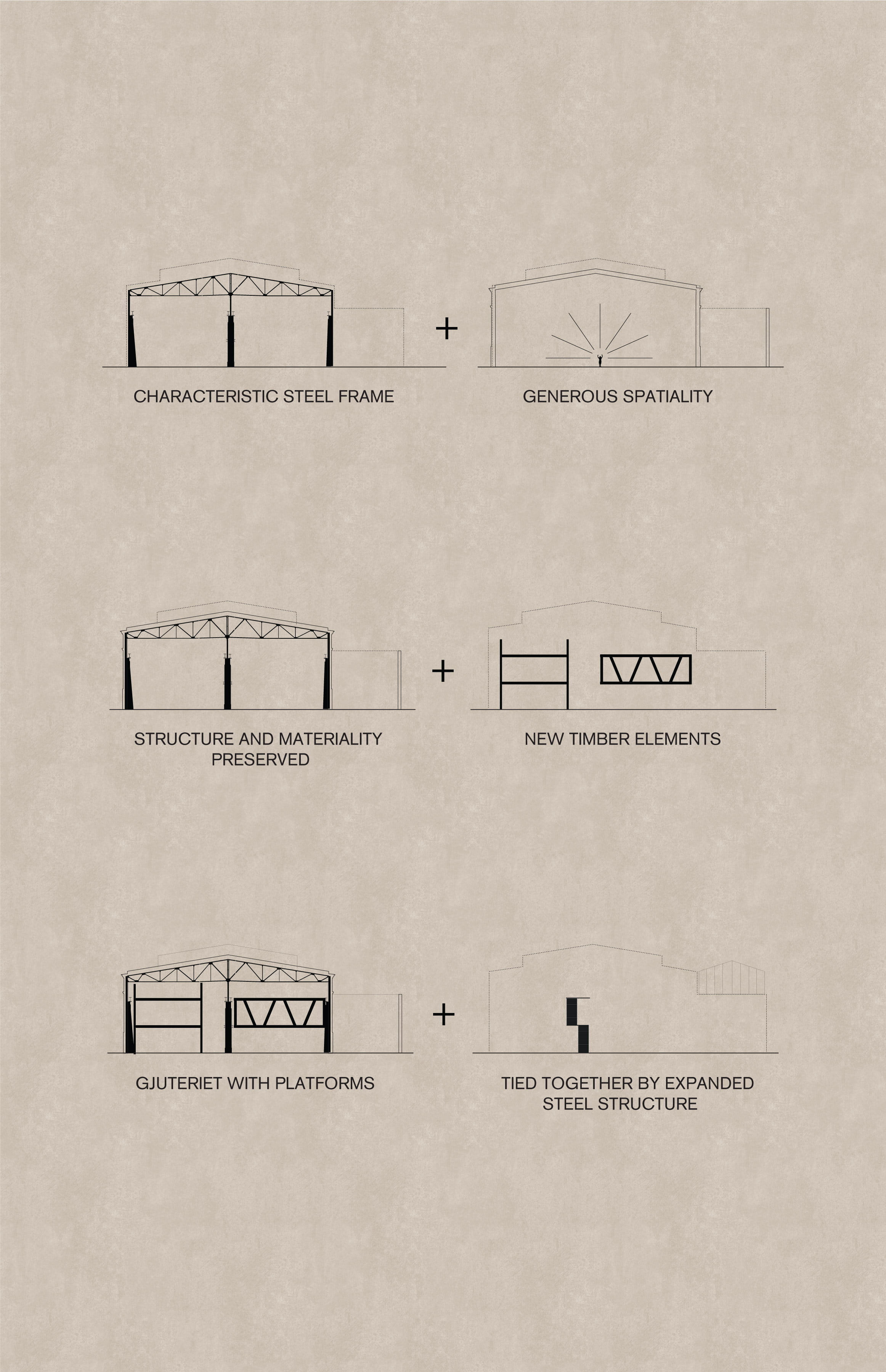 An open public programme
Two new volumes are hung from historic industrial overhead crane runways, reducing the number of columns needed to allow large open ground floor spaces which can accommodate a wide range of flexible uses. The main entrance, lobby, café and restaurant are located to the south of the building and connect directly to the quay. This public street-level programming links both the existing dry dock to the north and a new square to the west. Internally the rational existing loadbearing structure allows up to four individual tenants on each floor, vertically interconnected by dramatic staircases rising through the central atrium and two secondary side stairs and lifts.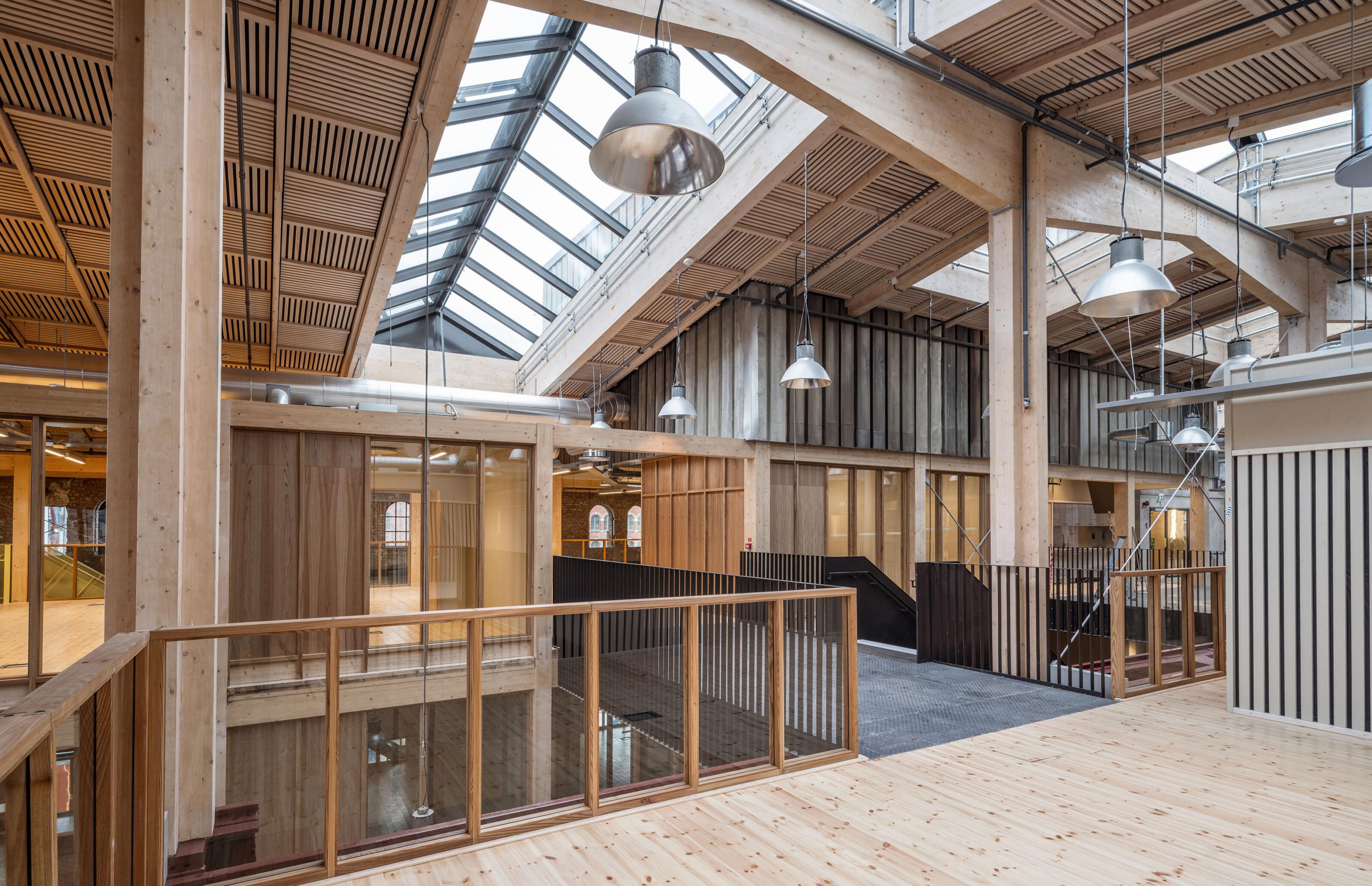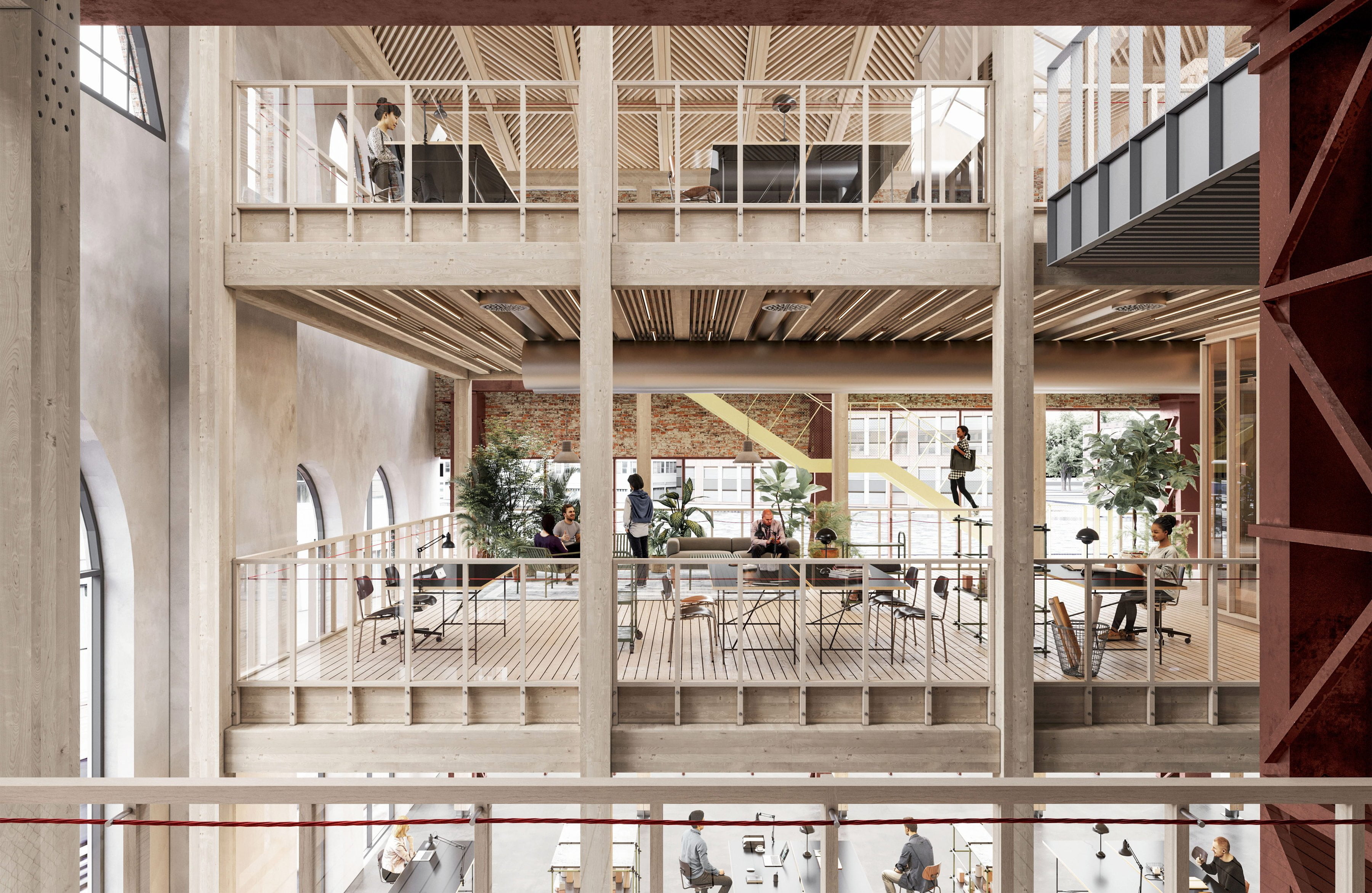 Oatly's new headquarters
Collaborating closely with Varvsstaden and the main tenant Oatly, Kjellander Sjöberg have created a bespoke and distinctive new headquarters workplace which speaks of Oatly's social and environmental values.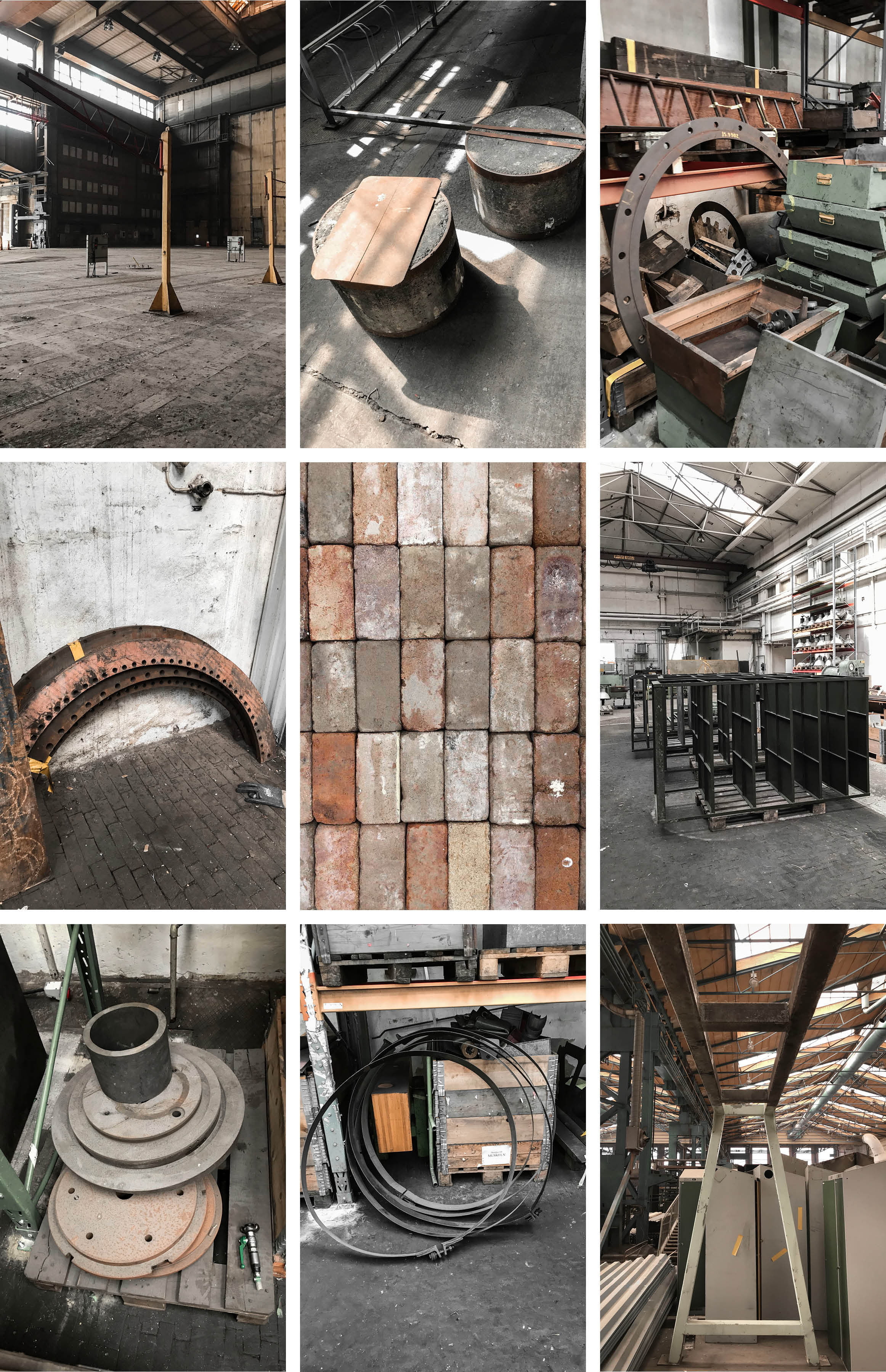 Circular economy with re-use and repurposed materials
The main strategy to minimise the use of resources and climate impact was based on making smart choices to maximise material sustainability. Central to this approach was the use of recycled and upcycled materials recovered from building demolitions in the local area including brick, chequer plates, stairs, steel profiles, perforated sheet metal and more. Along with the preservation and re-use of existing building materials and components, timber is used as the main new regenerative construction material to reduce carbon emissions and the overall ecological footprint. Timber was also selected as a lightweight material to reduce the load on the existing structure and avoid the need for new foundations.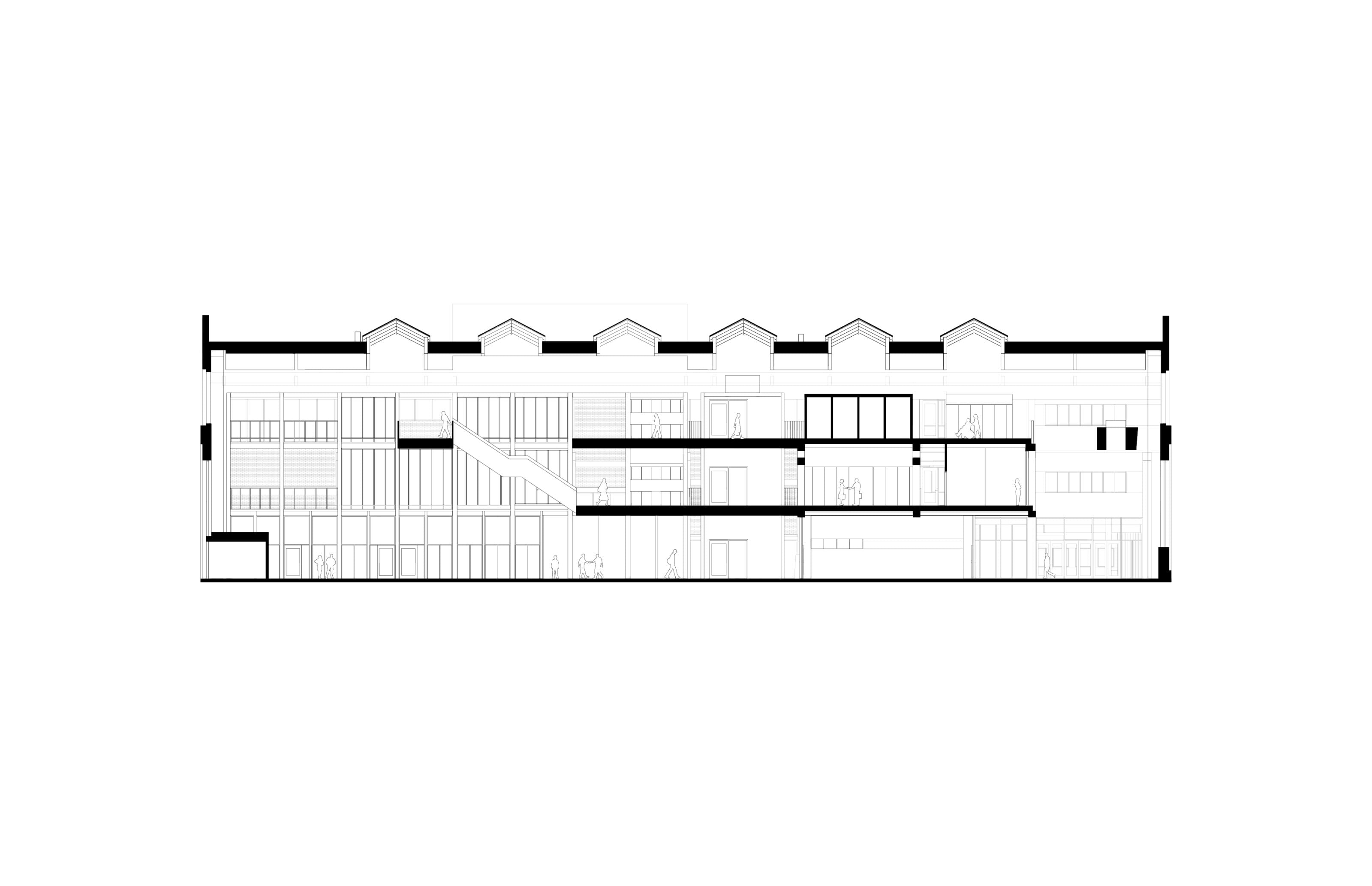 "Open, informal, healthy, light and genuine."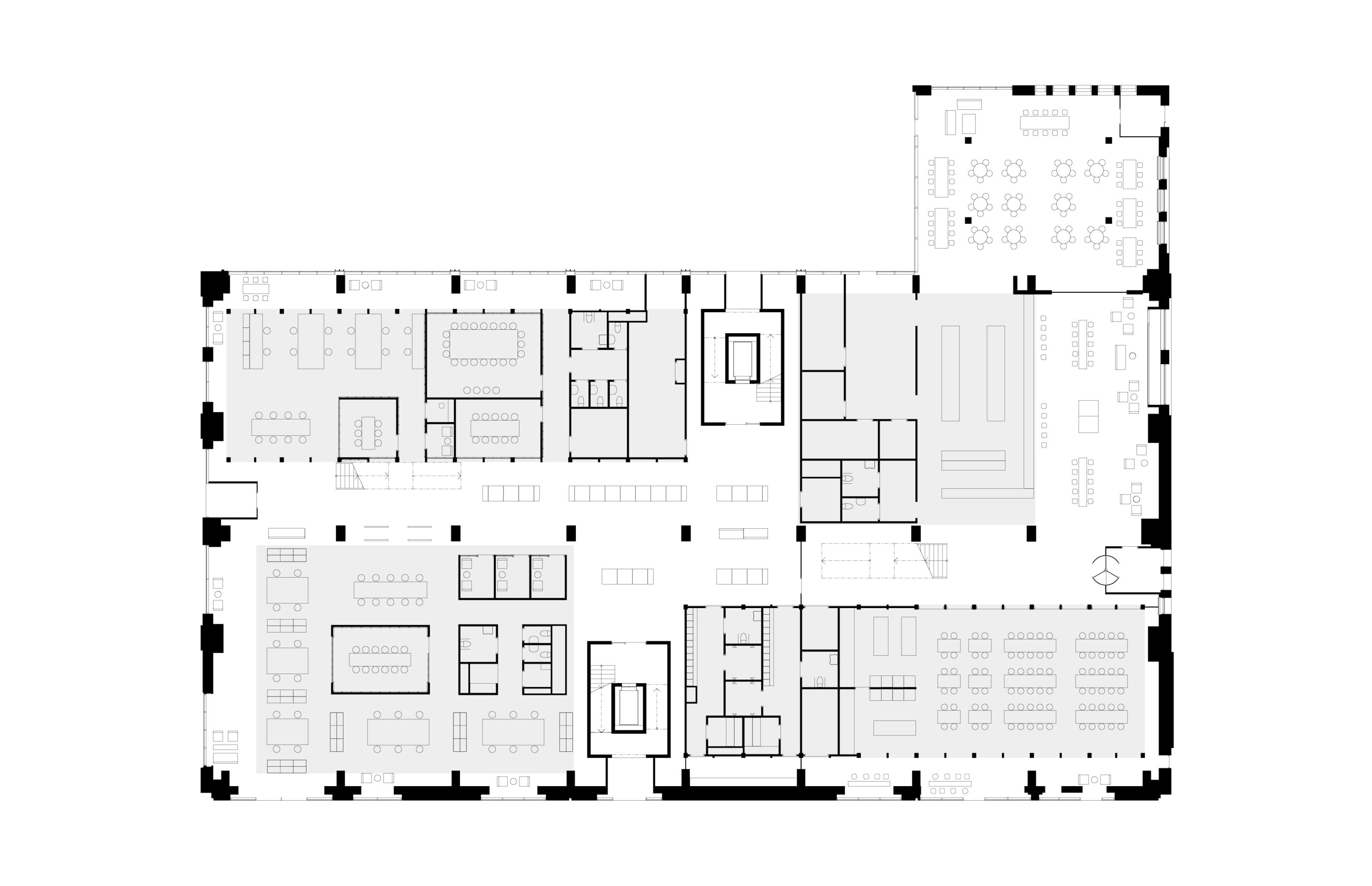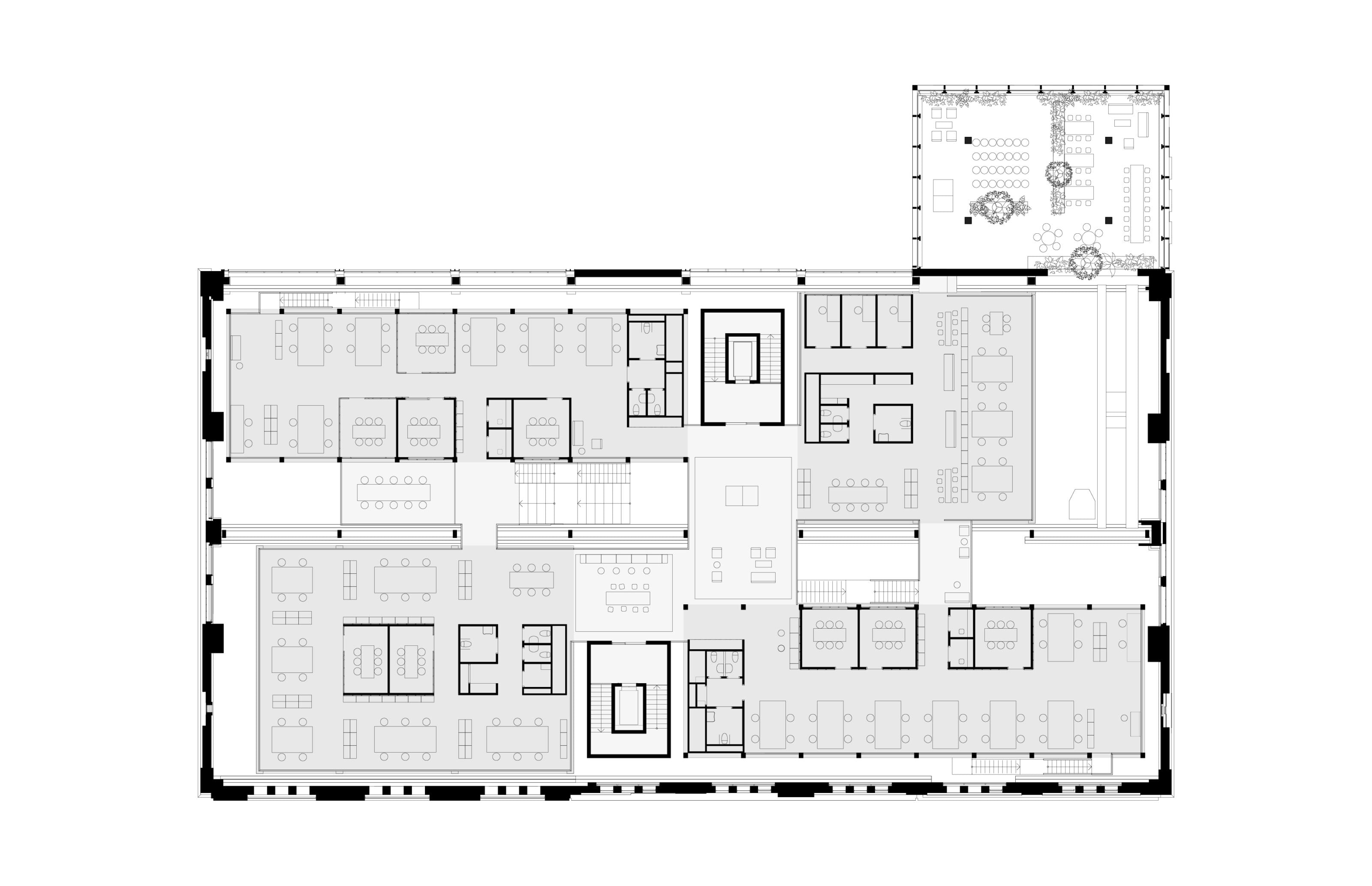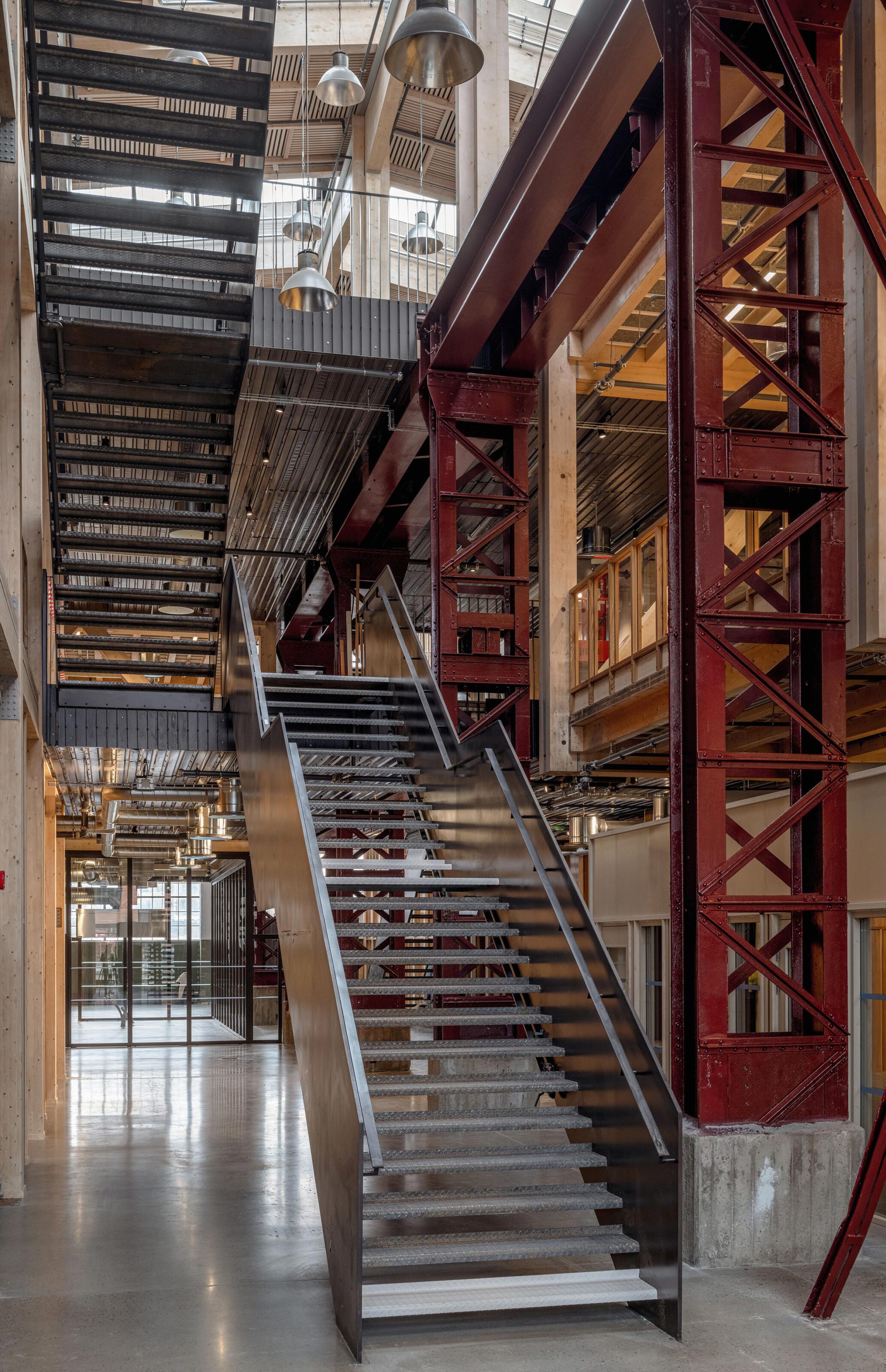 A day at work
Around 300 workspaces are arranged across a total of 4,900 sq m. of layered and suspended floors. A café with a barista-receptionist and a canteen for both the employees and public are the social heart of a creative hub with meeting rooms, open lounges, conference rooms, a conservatory, studios, exhibition spaces, a test kitchen and wellness facilities. All circulation areas are designed as wide galleries encouraging informal talks and spontaneous "corridor chats"; places to also pause and slow down. Temporary workplaces and open meeting rooms face the central atrium whilst more permanent uses are located at the perimeter along the facades. Right from the start Oatly emphasised the need for a distinctive and discernible 'whole building experience'; Gjuteriet is therefore not a series of individual floors but conceived as one continuous space. The unexpected spatial experiences, openness between floors, numerous staircases and shortcuts are designed to connect and create a community with a sense of belonging, accommodating the company's various activities under one roof.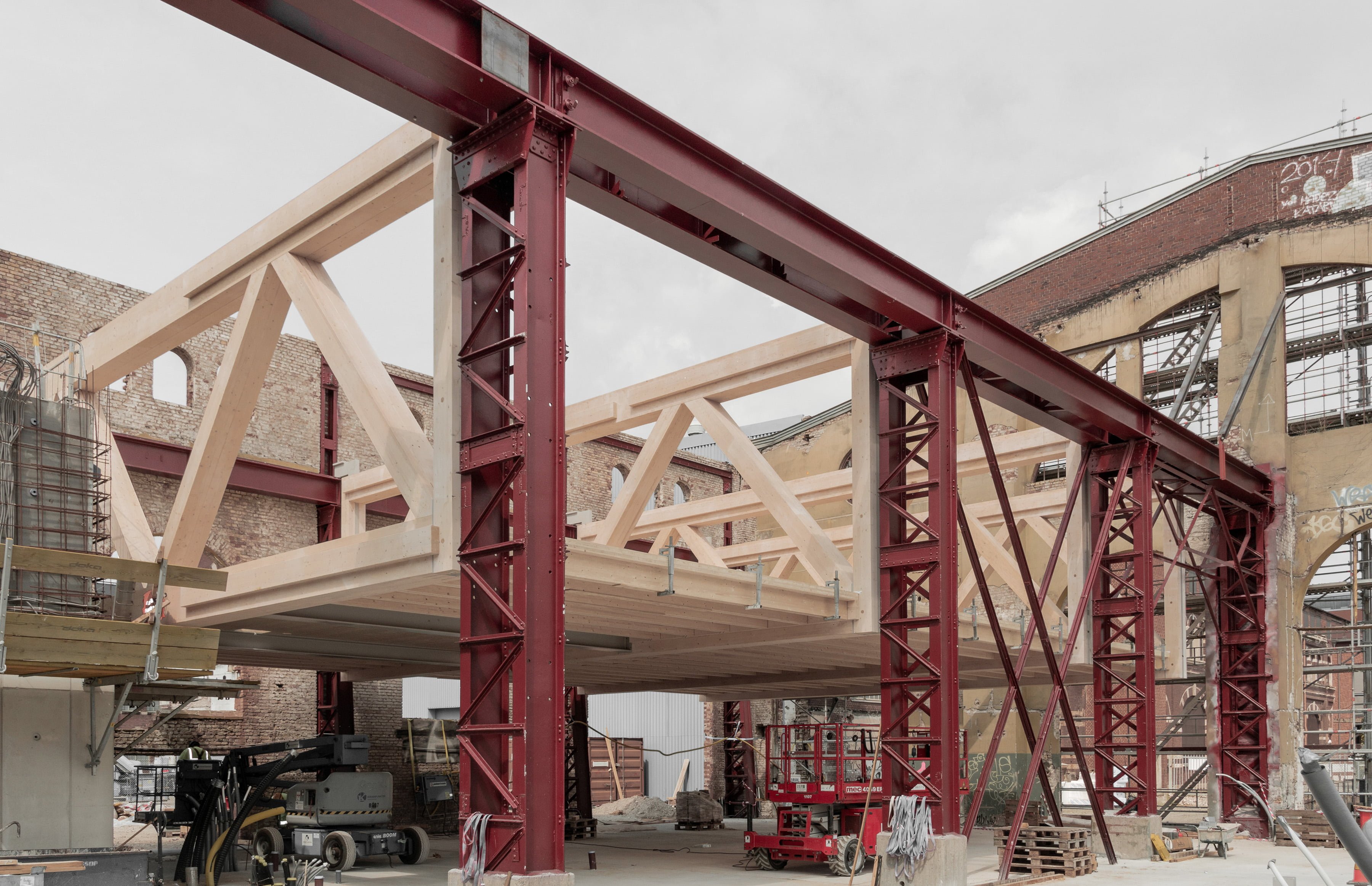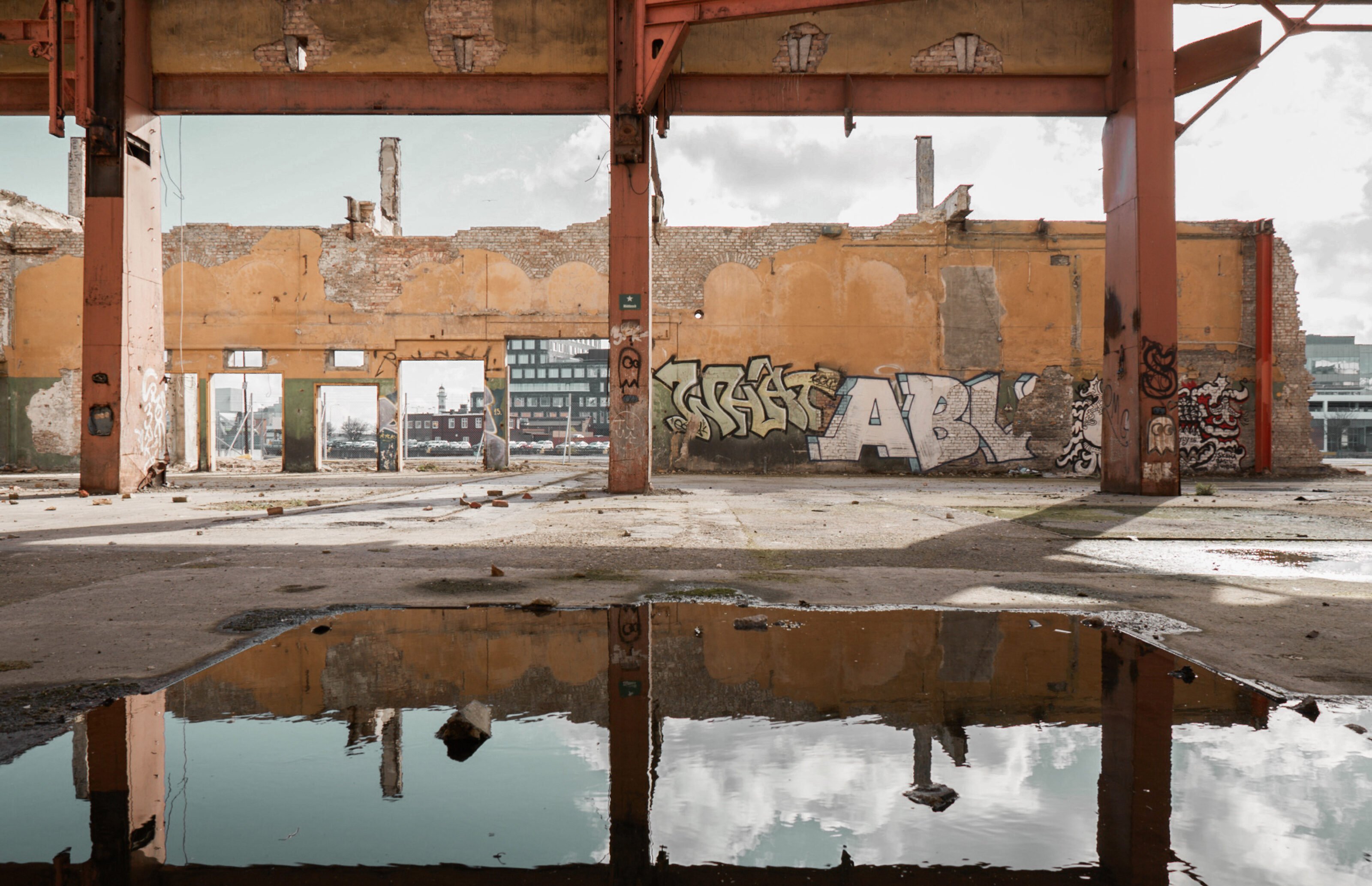 Circular approach and material reuse
Focused on the intensive re-use of repurposed materials, the project demonstrates how existing buildings can be reimagined based on circular principles. Formerly a ruin, the distinctive building has been given a vibrant new life as an active and social new urban place telling a multifaceted story about the port's rich maritime heritage.
Film created by: Paper Films and Ben Cope
www.paperfilms.tv